Apple Music is one of the leading music-based streaming services. It has a music library of millions of songs, and can already boast millions of subscribers. If you have a Mac, iPhone or iPad, you've already considered making it your primary purveyor of all musical content - chances are, you're using it already.
But did you know that you can get access to that massive music library while paying a sixth of the subscription fee?
Together Price is here to help you through it.
To start with, Apple Music subscribers get their first month of service for free. But after that, it gets a little more expensive.
The standard individual plan will cost you £9.99 per month. This will get you lossless music, spatial audio, and the ability to download over 100,000 songs to your library.
However, you can pay much less each month by getting the Apple Music Family subscription, , which costs £14.99 per month but allows you to share your subscription at no disadvantage with up to five other listeners, in a 'family' by using the Family Sharing options.
Ultimately, sharing with five others means paying just under £3 each month!
If that sounds promising to you, we'll explain how to go about this and begin sharing and saving securely.
If you're going to use Apple Music, you'll need an Apple ID, available to anyone using an iOS or macOS device. If you don't have these, we'd recommend taking a look at our advice on how to save with the family sharing system on Tidal.
In the app, tap 'Listen Now' on the left, then in the top right tap 'My Account', then 'Get Started'. They'll guide you through the rest.
Family Sharing allows you to share Apple services (TV+, Books, the App Store, News) with Apple Family members, with each family member using their own Apple IDs to access each of the services and keep their content separate.
What's fantastic is that with purchase sharing, the things purchased in these various services can be shared by the entire family. So, you can buy an album together, and then add it to your own playlists.
For the Apple Music Family Group, you'll need to be in a Family sharing group. Aside from the social element of being able to family share apple music playlists, this has a clear financial advantage. Don't songs just sound better when they cost you less?
Remember: your Apple family doesn't need to be populated by actual relatives. Instead, you can add friends or fellow Together Price users.
If you want to be part of a Family Sharing group, you can either join one or set one up. In Together Price's lingo, this means you're either a Joiner or an Admin. If you're looking to join a group, you just have to get the group manager/Admin to add you. We'll explain how to join groups on Together Price below.
Note, if you already have an Apple Music subscription, you can join a family group that subscribes to it, and your subscription won't be renewed on your next billing date. You'll be included in the group's subscription.
Here's how to set up a family sharing group as an Admin:
Enter the Settings app and tap your name. For less modern IOS devices, you'll find this in iCloud Settings.

Select 'Set Up Family Sharing', then Get Started. Proceed through the remaining stages. In the end, you'll have the opportunity to send Messages to invite family members.
If you're using a Mac, setting up Family Sharing is as easy or perhaps even easier than using an iOS device. The steps are just a little different.
Find the Apple logo in the top left. Click it, then System Preferences, and then Family Sharing.

Select Set Up Family, and proceed through the next stages. Apple will guide you through
When you open Apple Music, locate and select the Menu icon. This will lead you to Account settings, where you can select your profile picture or name.

Now enter Membership settings, going to 'Manage Membership', then 'Family settings', then 'Family Setup'.

You'll now be directed towards adding family members. When you've tapped Add Family Member, you're all set.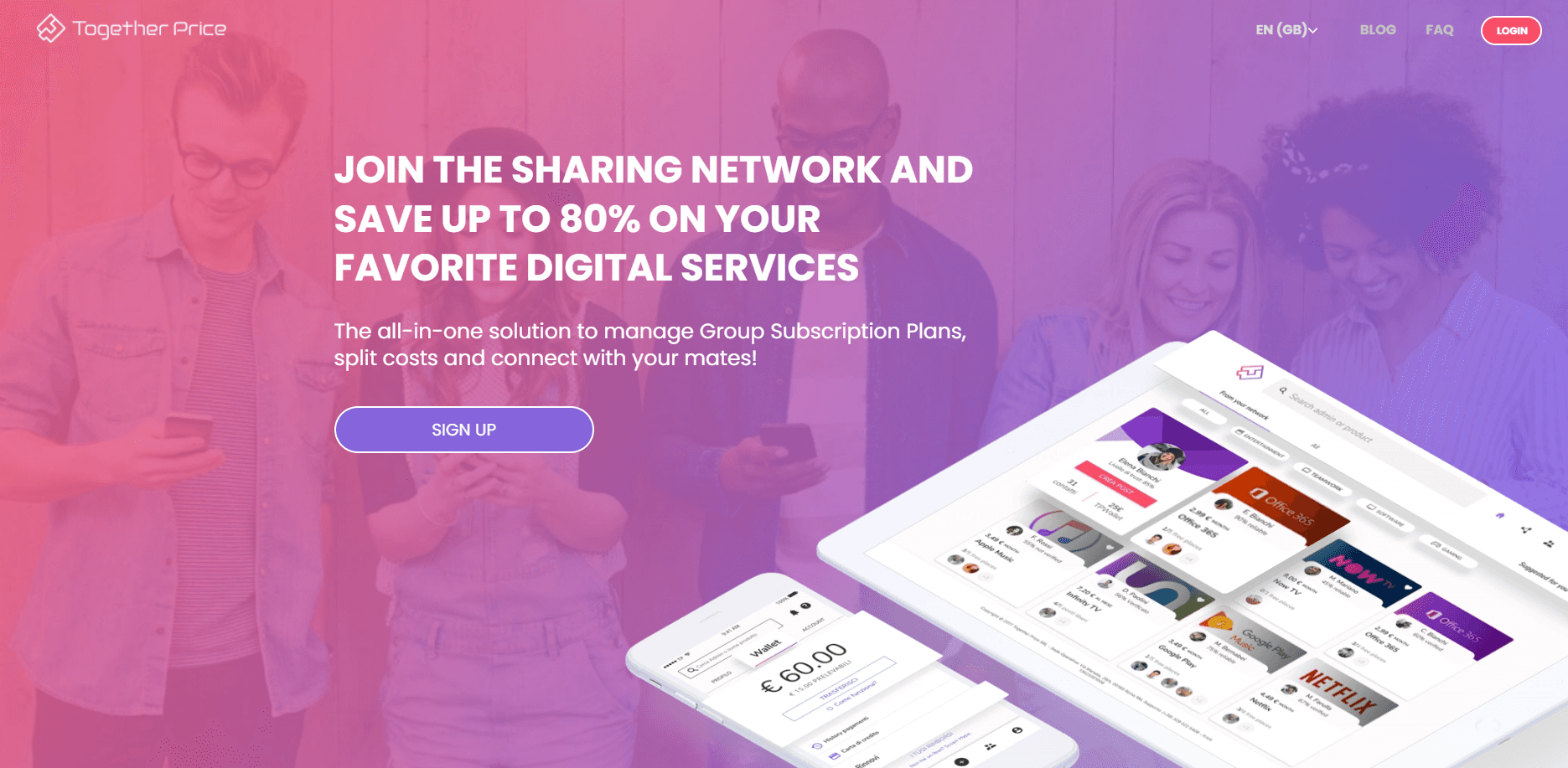 Together Price is the world's first legal account-sharing site. We connect consumers in a secure social network so that you can save on subscription fees for online services, enjoying the same content for less money while we sort out the rest.
Together Price users can enjoy:
A Trusted Network based on high levels of control and reliability that can measure the credibility of every user.

The Tpassword System for the safety and security of your credentials.

One Digital Wallet to keep all your payments under control. We use Stripe as the payment system so that all of your payment details remain hidden from other users. Stripe also has a strict anti-fraud data protection system.

An exclusively dedicated chat line where you can communicate with other users.
All transactions take place in a safe environment with an SSL security certificate, so you don't risk any details being leaked. Not to mention our 25-day cooling-off period, so that if on the off chance you do face issues from another user, you can always get your money back.
The only things you need to decide when signing up to Together Price are which subscriptions you want to take out and whether you will be a group Admin for that subscription or if you will become a Joiner, entering another person's group.
If you sign up to be an Admin, you will be sharing your pre-existing Apple Music Family Plan. If you need, Together Price will help you find a group to share with. Alternatively, you can use us to coordinate regular contribution payments from someone you already know.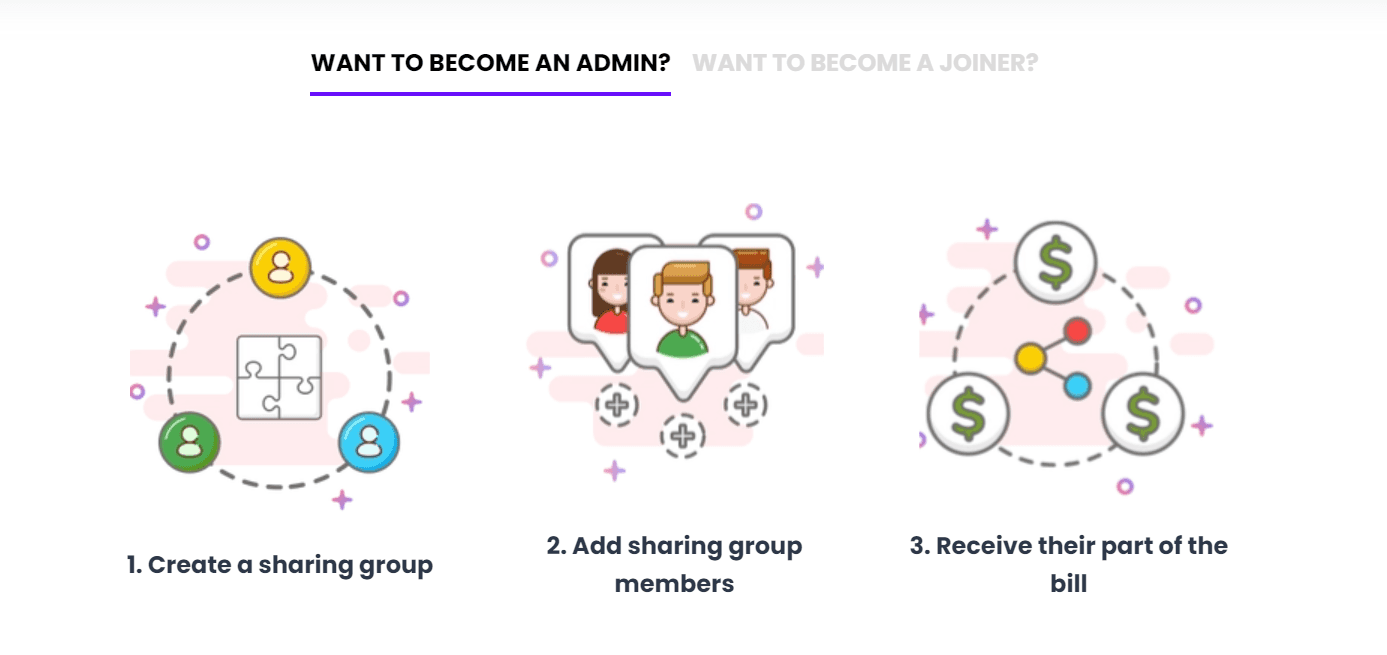 How to become an Admin
Create an account on Together Price for free.

Fill in your details.

Create a group.

Decide if you want your group to be public (everyone on Together Price can ask to join) or private (you send invitations to whomever you decide).

Send an invitation link or wait for others to join.

Get paid monthly. The money goes into your digital wallet, and you can download it to your bank account after 25 days.

How to become a Joiner
You can join someone else's subscription group.

Sign up on Together Price. It's free.

Fill in your details.

Search for groups you are interested in joining.

Join a group and pay monthly to the Admin! You will have to pay a small commission fee to Together Price for our service (less than £1).
With Together Price, you share and save while we sort out the rest!
To stop sharing Apple Music with a family group as an Admin, you can stop using Family Sharing, or remove a member from your family.
To stop sharing as a Joiner, you can leave the family group.
For more advice on how to stop using Family Sharing, go to Apple Support, who can help you further.
Signing up to one of the world's leading music providers sounds inviting enough, but knowing you can save so much (so securely!) by signing up to Together Price, it's hard to resist! It's time to get your funk on, family style.