Apple One subscription is a services bundle that gives you easy access to your favourite Apple services at one incredible price. It also has a Family Sharing feature.
Apple One includes the best Apple services to keep you informed and entertained as well as provide you with cloud storage for all your important documents, keepsakes and more.
If you are wondering about the possibility of sharing an Apple One account, you are in the right place. Apple One is great for sharing as each member of a family group can sign in with their own Apple ID and have private access to each service and receive personalized recommendations.
Sharing your Apple One account can be a stress-free and enjoyable experience all because of Together Price, which allows you to share your account but never have to be involved in the management of subscription payments.
Another plus is that you don't need to share your password with anyone!
Together Price is a safe, secure and legal way to share your online digital media accounts without having to share confidential information.
Apple One is an all-in-one subscription bundle that offers six (6) Apple services at a combined monthly price.
It is the ultimate collection of Apple apps for one low monthly price. It's simple to sign up for and easy to manage.
There is something for everyone given that with the Family plan or Premier plan, you can invite up to five other people to join.
You can now enjoy all of Apple's service apps in one package!
With the Apple One subscription bundle, you get the following:
Apple Music:

A music, audio and video streaming service.

Apple TV+,

An online streaming service for award-winning Apple Original shows and movies.

Apple Arcade,

A video game subscription service that gives access to over 200 incredibly fun games without ads or in-app purchases.

Apple iCloud+,

A subscription-based cloud storage system accessible on multiple apple devices.

Apple News+

Use the Apple News App to Access hundreds of magazines and leading local, national and international newspapers such as Los Angeles Times, the Wall Street Journal and lots more.

Apple Fitness.

A fitness service powered by the Apple Watch, where you can choose from a catalogue of workouts and meditations led by expert trainers.
As you can see, the Apple One bundle does pack a number of nice offerings that if you got them individually on their own would be a very expensive venture.
When you further consider that as affordable as the Apple One bundle is, it is made unbelievably cheaper with Together Price.
Apple One has 3 subscription plans: Individual, Family and Premier
£14.95/month

Not eligible for account sharing

Apple Music, Apple TV+, Apple Arcade, and 50GB of iCloud storage
£19.95/month

Share with up to five other people

Apple Music, Apple TV+, Apple Arcade and 200GB of iCloud storage
£29.95/month

Share with up to five other people

Apple Music, Apple tv+, Apple Arcade, Apple News+, Apple Fitness+ and 2TB iCloud storage
Apple Music: £9.99/month for the individual plan, £14.99/month for the family plan, £5.99 for the student plan, and $£.99 for the voice plan;

Apple TV+: £4.99/month;

Apple Arcade: £4.99/month;

Apple News+: £9.99/month;

Apple Fitness+: £9.99/month or £79.99/year;

iCloud+: £0.99/month for 50GB, £2.99/month for 200GB, and £9.99/month for 2TB.
You really cannot beat the price savings!
There is a subscription plan for whatever your needs might be but if you are looking to specifically account share, then you might want to go for either the Family Plan or Premier Plan. Either of these plans will give everyone in your Family sharing group access to all the applicable services.
*Apple Fitness+ and Apple News+ are exclusive to the Premier Plan.
If you use or need Apple's other services and not just a single service, it is more economical to buy them through this Apple One bundle.
You get access to multiple Apple apps/services and can share an account with up to five (5) other family members or individuals. Sharing an account is easy, just open the Settings app and then tap family sharing and follow the on-screen instructions.
It really is a good deal!
When you add to the fact that Together Price brings down your monthly cost up to 80%, it is a win-win situation.
Apple One is a services bundle that offers you more than one Apple service for one individual price.
On the other hand, an Apple Music subscription is a music, audio and video streaming service that gives the subscriber unlimited on-demand access to over 90 milling songs.
Even if you have an Apple Music Family plan, you are limited to only the Apple Music service.
With Apple One you get a services bundle package but Apple Music just gives you a single service.
The quick answer is yes!
You can share your Apple One subscription by adding family members or individuals to your Apple ID account. Apple limits you to a maximum of five (5). Not only are the Apple apps/services shared but also App Store purchases as well.
You can only be a member of one family at a time and you are only allowed to change family groups once a year.
By default, many Apple Apps/Services including Apple TV+, Apple Music, Apple Arcade, Apple News+, and Store (iTunes Store, App Store, and Apple Books) purchases will be shared. You cannot keep users from sharing Apple TV+, Apple Music, Apple Arcade, or Apple News+, but you can prevent sharing of purchases by tapping on the Purchase Sharing section and selecting Stop Purchase Sharing.
If purchase sharing is turned on, the family organiser will pay for family members' purchases and must have a valid payment method on file.
Not all content is eligible to be shared. Age varies by country or region. Accepted forms of payment vary by country or region.
People who have separate Apple IDs for media and iCloud can use both accounts with Apple One. There's an option to stack the storage in the same way. In this situation, the ‌Apple One‌ storage plan replaces the current storage plan.
On your iPhone or iPad device, Open the Settings app. Tap your name, then tap Set up Family Sharing. Tap Invite People, then follow the on-screen instructions and invite your family members or individuals. Eligible subscriptions are automatically shared with your family members or individuals.
On your Mac: Click on the Apple icon at the top left of your screen, then click on your System Preferences. Then select " Family Sharing " in the new window Finally, tap " + " and enter the email address of the person sharing.
As a Co-subscriber: You will receive the invitation by e-mail or SMS. Simply click on the invitation and follow the instructions. And it's done! You can now enjoy all of Apple's services bundle.
If you have multiple Apple IDs, you can invite each of your accounts to the group so you can share purchases from your other Apple IDs with your family.
If the person you want to share an account with is too young to have their own Apple ID, you can create a Child account for them.
With a Child account, when you use Screen Time with Family Sharing, you can review your kids' activity reports and set time limits for specific apps right from your own device.
You can also set up Apple Cash for a child or teenager
You can also name another family member as a parent/guardian so that you're always on the same page when it comes to your kids and their screen time.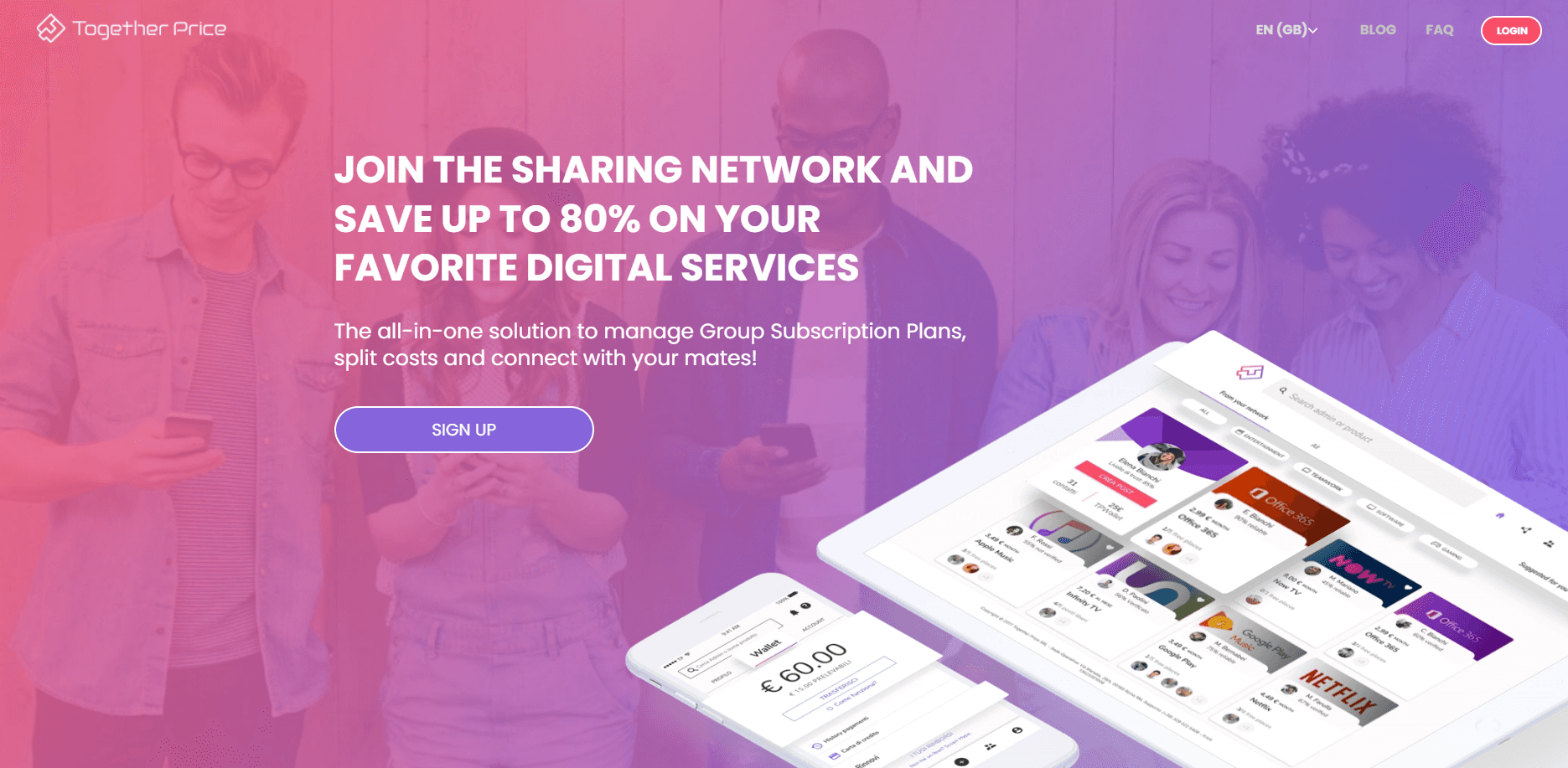 Together Price is an online site that lets you share streaming media accounts to save money.
You can share any streaming service with Together Price. You can share Apple One and any other online digital streaming services.
You have probably tried sharing accounts with friends and family to save money, but they never paid back or paid on time.
With Together Price, that will never happen. You will never have to worry about anyone paying you back because Together Price takes care of that.
Together Price guarantees the safety of your passwords, credentials, and accounts so that no hacker can steal them. You never have to share payment methods with anyone.
You can save money in two ways, either by becoming a joiner or an admin.
Admins share their accounts while joiners share someone else's account.
There are two ways to subscribe to Together Price, by either becoming a Joiner or an Admin.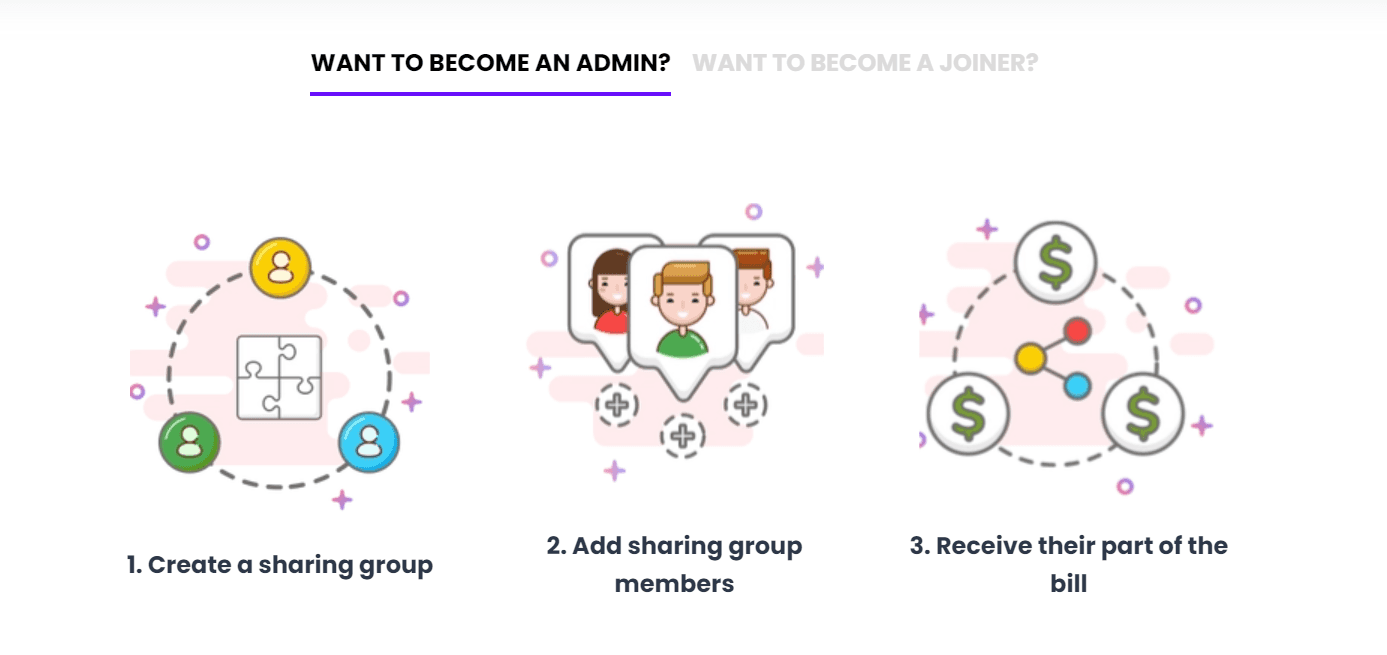 Being an Admin means you have complete control over your group. If you have a subscription with free slots, you can share it with others and cut costs.
Create an account on Together Price. It's free!

Fill in your details.

Create a group.

Decide if you want your group to be public (everyone on Together Price can ask to join) or private (you send a personal message invitation to whomever you decide).

Send invitations or wait for others to join.

Get paid monthly. The money goes into your digital wallet, and you can download it to your bank account after 25 days.

You can join someone else's subscription group.
Sign up on Together Price. It's free.

Fill in your details: name, address, payment method, etc.

Search for the Curiosity Stream group

Join the Curiosity Stream group and pay monthly to the Admin! You will have to pay a small commission fee to Together Price for their service.
If you need more storage than is provided with your Apple One subscription, you can purchase additional iCloud storage separately to supplement what you already have.
Your entire family can share a single iCloud storage plan large enough to store everyone's photos, videos, and files.
Each person's files and documents remain private, but it's easy to see how much storage everyone is using.
Apple One enables access to iCloud Private Relay, which means all traffic leaving your device is encrypted and sent through two separate relays. No one, not even Apple, can access or view this data.
As Apple One is a bundling service that gives you access to six (6) different Apple services, the free trial option works slightly differently.
You get your first month free for any services that you have not already subscribed to. After that, you are charged the monthly price for the plan you signed up for.
There is no commitment and you can cancel anytime.
Apple One services work across the following devices:
iPhone and iPod Touch with iOS 14 or later

iPad and iPad mini with iOs 14 or later

Apple TV with tvOS 14 or later

Mac with macOS Big Sur 11.1 or later

Apple Fitness+ requires Apple Watch Series 3 or later
For Android users, there is a limit to the Apple services you can access. For example, applications purchased via the Apple Store will be unavailable for download on a family member's Android device that is sharing an Apple One membership.
However, it is possible to access the Apple Music app and Apple TV+ app through Android devices or web apps.
It is important to note that Apple One is geared towards the Apple device ecosystem (iPhone, iPad, etc.). You would need to have an Apple device to make sharing an Apple One account worth it.
Apple One is unique in its offering in that you are paying for access to a number of services instead of subscribing to a single service like an individual apple music subscription.
With the rise of subscription services, it can get financially overwhelming to subscribe to different services at the same time.
Thankfully, Together Price is here to help. With over 80% reduction in your subscription fee and never have to handle the logistics involved in sharing a paid account safely and securely, you can go ahead and sign up for as many services as you need.
Given the option to share your account with up to five other users with certain subscription plans. It is the perfect affordable mix of Apple services.