There is nothing like a good storybook! And unlike a common paper book, audiobooks bring such storybooks to life in a new and magical way.
In fact, audiobooks are almost primal in the way that they take a written story and bring it to life with oral storytelling – as if you were among the first people on this earth, gathered around a campfire and listening to the stories told by the family surrounding you.
After all, the spoken word is the earliest form of teaching among humans!
We will be telling you all about Audible and also, how you can save on your Audible account cost on Together Price.
Audible is an American-based online service that lets you download and listen to both audiobooks and podcasts.
Headquartered in Newark, New Jersey, Audible is run by the multinational tech company Amazon. As you can imagine, it is, therefore, one of the biggest and most well-known audiobook subscription services currently available.
Audible books listeners have access to a huge library of over 400.000 titles, from familiar, beloved classics to brand new releases to original content found on Audible only and known as 'Audible Originals'!
You can just sit back, and listen as your favourite books are read aloud by a narrator, the author, a celebrity, or even a performing audio cast!
Audible offers a whole range of features. As an Audible listener, you get:
• One credit every month to access any audiobook you like, no matter the price. This audiobook is yours to keep forever – even if you decide to cancel your subscription.
• Access to the Plus Catalogue. This is a fantastic collection of audiobooks, originals, and podcasts for you to enjoy without limit.
• Exclusive subscriber deals.
The Plus Catalogue is a growing selection of free audiobooks, Audible Originals, and podcasts that all Audible listeners have unlimited access to at any time! Currently, this catalogue has over 11.000 options for you to choose from. Note that the Audible Plus Catalog has an 'included' tag.
Note that the number of credits you get every month depends on your Audible subscription plan.
You can sign up for Audible by going to www.amazon.co.uk, creating an Amazon account, and downloading the Audible app. If you already possess an Amazon account, all you need to do is sign in.
Once you have signed in, any available credits you have will be shown in the top right-hand corner.
Audible is accessible by an internet browser or by the Audible app – and the app is compatible with almost every device. All you need is an Amazon account. Simply log in to the Audible app or go to the Audible web page to access your account and get started with Audible.
Once you are all set up, you can download your Audible books. Your Audible files will be stored as .aax files and you can decide where you'd like to keep the stored on your device.
The cost of Audible depends on what subscription plan you choose. At the moment, Audible has four basic membership plans. You can have a look at these below:
• Gold Monthly – £7.99 per month. This option gives you one credit every month. • Platinum Monthly – £14.99 per month. This option gives you two credits every month. • Gold Annual Special – £69.99 per year. This option gives you 12 books every year. • Platinum Annual - £109.99 per year. This option gives you 24 books every year and is the best value for money.
While the Gold Monthly and Platinum Monthly plans charge a fee every month, the yearly Gold Annual Special and the Platinum Annual plans charge an upfront fee each year.
Audible offers a free trial to all its new listeners. This trial lasts for 30 days and is perfect for those who want to test the platform before fully committing to it.
It also includes a free audiobook that you get to choose – and that you get to keep even if you decide against continuing after your trial ends!
If you possess an Amazon Prime membership, you can set up an "Amazon Household" group which enables you to share your Audible Platinum content with another person simultaneously while saving 50% of your costs.
How is that possible? Through Together Price, of course!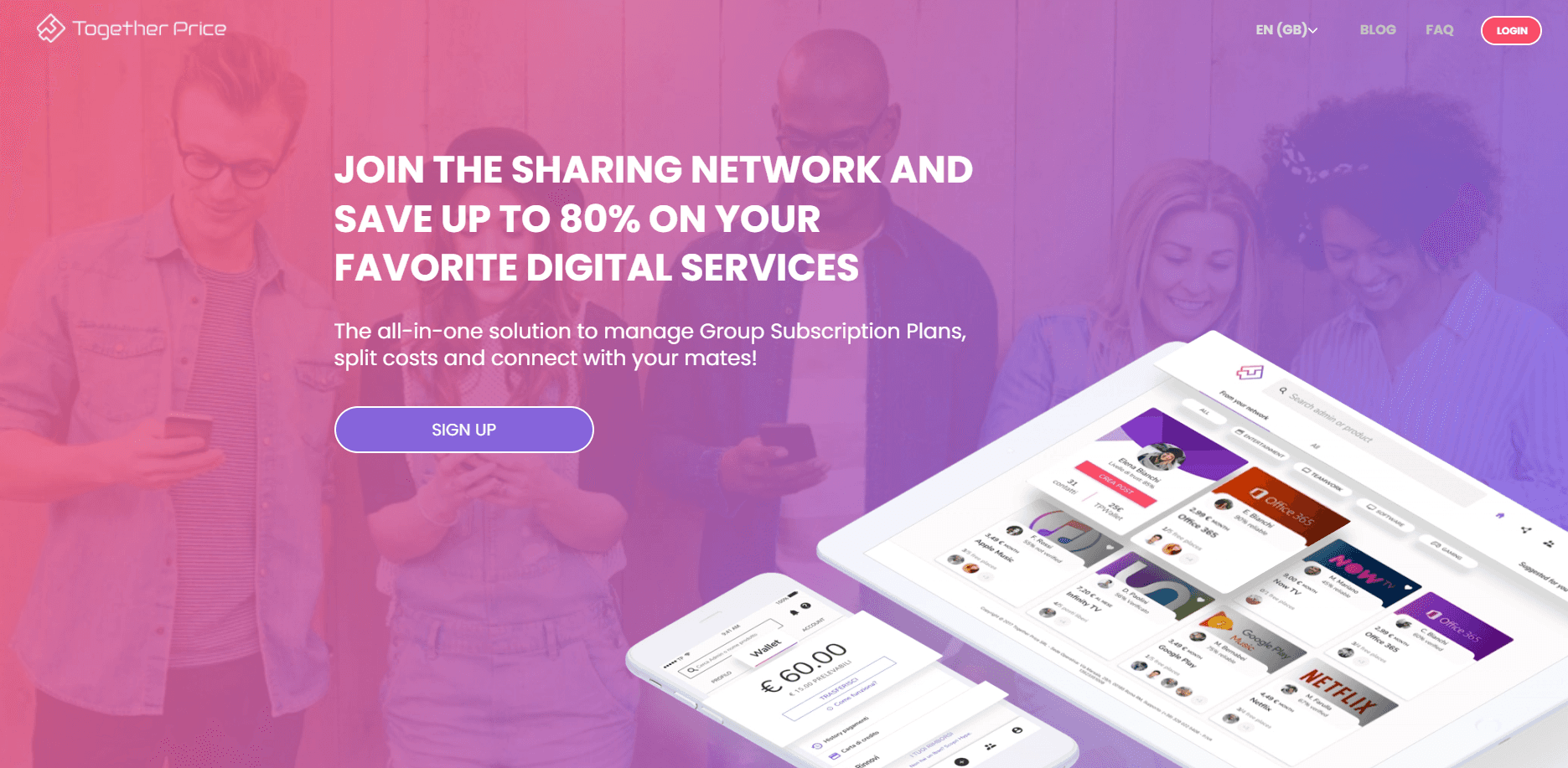 Together Price is an innovative platform for sharing digital services that lets you share the cost of your multi-account subscription in a legitimate, safe, and secure way.
With Together Price, the Audible Platinum plan would only cost you £7.49 a month instead of £14.99 a month by sharing the cost with another person. Multiply this cost by 12 months, and you will notice how much you could save on Together Price!
Together Price gives you many benefits and advantages in one simple solution:
a trusted network based on high levels of control and reliability that can measure the credibility of every user;
the Tpassword system for the safety and security of your credentials and access to shared services;
an exclusive digital Wallet to keep all your payments under control;
a dedicated chat line where you can communicate with other users.
With Together Price, you share and save, and all the hassles are left to us!
Whether you become an Admin or a Joiner on Together Price, you will be able to enjoy the best digital sharing services.
Sharing has never been better with Together Price!
Navigate to "Content and Devices" in your Amazon account.
Toggle over to the "Preferences" area.
Click and open "Households and Family Library", then select "Learn more about Households."
Select the appropriate "Add" button.
Enter the name and email of the person you would like to add and click "Verify second adult's account."
The person will have 14 days to accept your invitation.
If you'd like to share Audible audiobooks books with friends, just know you can share a book you liked either with the other member of your Amazon Household sharing group, your Audible book club, or another Audible member.
To share a book, open your Audible app and your Audible library by tapping the "My Library" button.
Now find the Audible book you want to share and tap on the three dots on the right side of the book title.
You will get various options, one will be "Send this Book."
Tap on it and you can choose whether to send it by email or text or get a link to send to your friend.
If you want to convert Audible books to MP3 you will have to download Audible AAX. It's free to download and use.
This Audible converter is also pretty straightforward and intuitive, so you shouldn't have any problems using your downloaded Audible AA.
Now you know all about Audible and how to use it. You also know how to share the cost of the subscription on Together Price.
So, why not give it a go?