Any true anime and manga fan has heard of Crunchyroll! But what is it, and how does it work?
For those who don't, a Crunchyroll account could be a good idea to have or even to gift for anime lovers. But how many streaming services are you subscribed to? Is a Crunchyroll account just another cost to add to your already burdensome bills?
Well, we have the perfect solution for you! Continue reading and we will tell you all about how to share and save on your subscription costs with Together Price.
So, let's get into it!
Crunchyroll is an American streaming service, that distributes, publishes, produces, and licences anime, Japanese comics (or manga), and doramas.
It was founded in 2006 by a group of university students in California. Crunchyroll now has over 1000 films and 30 000 episodes in its library, over 100 million subscribers, and operates in over 200 countries around the world!
It is one of the most popular anime services in the world and is worth over one billion US dollars. Along with the films and shows in its library, Crunchyroll also offers games, and live-action dramas, and hosts several in-person events like the Crunchyroll Expo and the Crunchyroll Anime Awards.
In 2018, Crunchyroll was acquired by WarnerMedia, which sold it to Sony in December 2020. Sony is the owner of Crunchyroll's major competitor Funimation. We don't yet know all the specific details about the merger of the two anime streaming services. But we can imagine how they will completely take over all other streaming services that offer anime and manga.
The cost of Crunchyroll Premium depends on what subscription plan you choose. Crunchyroll Premium currently has three subscription plans that require payment to be made either every month or every year.
These are:
• Crunchyroll account Fan – £6.50 per month. This option comes with no ads, unlimited access to the Crunchyroll library, new episodes released one hour after they're released in Japan, access to digital manga, and streaming on one device at a time, so no screen share.
• Crunchyroll account Mega Fan – £7.99 per month. This option is the most popular. It comes with all the same benefits as the Fan plan but with the added benefits of offline viewing, discounted prices on Crunchyroll store merchandise, and streaming on four devices simultaneously.
• Crunchyroll account Mega Fan (12 months) - £79.99 per year. This option comes with all the same benefits as the Mega Fan plan but is the best value for money, with a 16% discount.
You can subscribe to Crunchyroll Premium by going to www.crunchyroll.com and following the procedure.
Procedure:
Click on the 'Try Free Premium' option at the top.
Select the membership that you would like to try – Fan or Mega Fan.
Once you have been redirected to the 'Create Account' page, enter your email and create a secure password.
Enter a payment method.
Click on the 'Start Free Trial' option at the bottom and start watching!
Once you have subscribed, you can log in and start streaming Crunchyroll Premium on any compatible device.
Crunchyroll is compatible with your web browser, Android TV, Chromecast, Roku, PlayStation, Xbox, Nintendo Wii, Amazon Fire TV, Apple TV, Apple TV App, LG and Samsung TV, iPhone, iPad, Android, and Windows 10.
Since the Crunchyroll Mega Fan membership lets multiple users from the same household stream on up to four devices at the same time, on the same account, you can share your subscription with three other people and save 75% of the cost of a Premium account!
How? With Together Price!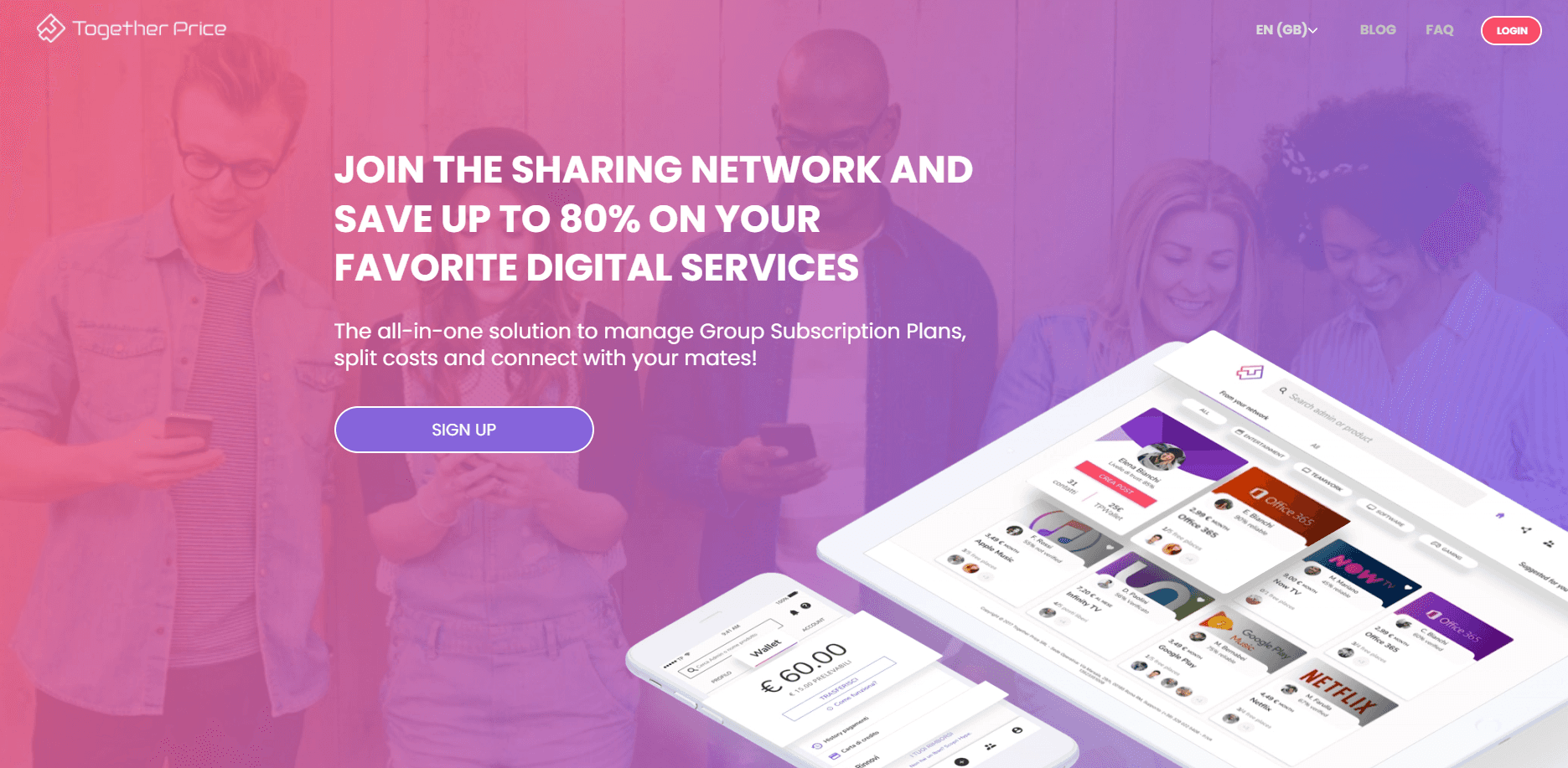 Together Price is an innovative platform for sharing digital services that lets you share the cost of your multi-account subscription in a legitimate, safe, and secure way.
With Together Price, Crunchyroll's Mega Fan plan would only cost you £1.99 a month instead of £7.99 a month by sharing the cost with another person. Multiply this cost by 12 months, and you will notice how much you could save on Together Price!
Together Price explained:
Together Price gives you many benefits and advantages in one simple solution:
a trusted network based on high levels of control and reliability that can measure the credibility of every user;

a Tpassword system for the safety and security of your credentials and access to shared services;

a digital Wallet to keep all your payments under control;

a dedicated chat line where you can communicate with other users.
With Together Price, you share and save, and all the hassles are left to us!
Whether you become an Admin or a Joiner on Together Price, you will be able to enjoy the best digital sharing services.
Account sharing has never been better with Together Price!
Crunchyroll is also available for free. However, all free streaming comes with ads and new episodes can only be watched one week after they've been released in Japan.
Whether you are using Crunchyroll for free or with a paid subscription, all Japanese content comes as either 'subbed' or 'dubbed'.
What are subs?
Subbed means that you can watch anime with subtitles in your language. Dubbed content is for those of you who would prefer to watch and listen, rather than read subtitles.
What are dubs?
You can choose to watch a dubbed version where the voice of the Japanese actor has been replaced by a voice actor speaking your language. But remember, mangas are only available in English.
You can cancel your Crunchyroll subscription by going to www.crunchyroll.com and following the procedure.
Procedure:
Login to your account.
Click on 'Profile' and select 'Settings'.
Click on 'Premium Membership Status' and select the 'Cancel Membership' option.
Confirm your cancellation.
Seeing as Crunchyroll Premium account sharing is allowed among a household or family members, you can probably entrust your account credentials to them. A Premium Crunchyroll user can stream their one account on a maximum of four devices simultaneously.
So, why take the burden of the hassle to get your money back from family when Together Price does it all for you?
Sign up to Together Price and find all the other streaming services you can share.