Want to learn more about Deezer? Here's everything you want to know about what it is, how much it costs, how to share Deezer and how you can save on your subscription today with Together Price!
Like other platforms, for example, Spotify, Amazon Music, and Tidal, Deezer is a music streaming service that lets you listen to music online.
Deezer has music from three major record labels, Universal Music Group, Sony Music, and Warner Music Group. It is used by over 16 million people and has over 90 million tracks – that's more than Spotify!
Deezer also comes with podcasts, radio channels, and Deezer Originals. Not only that, but it also offers professionally put-together playlists and recommendations personalised for you.
Listen to your favourite track, album or playlist offline for those times when you don't have wifi or service. In the middle of a forest and want a change from birdsong? Download your favourite playlist in the app before you leave, and you'll be listening to your favourite tracks completely data-free.
Plus, now you can also share your favourite tracks on Facebook Stories and Instagram Stories. So you can let your friends know what you are listening to, and see your friends' favourite tunes too! How cool!
The cost of Deezer depends on what subscription plan you choose:
Deezer Free – Free. This option lets you listen to Deezer's music, podcasts, and audio completely free! Deezer Free has ads, can't be listened to offline, and only gives you access to playlists. That means you can't use the search function to find a specific song.

Deezer Premium – £11.99 per month. This option comes with ad-free streaming, offline listening, and the ability to stream on only one device at a time.

Deezer Premium Annual - £61.80 per year. This option comes with all the benefits of Deezer Premium but with Hi-Fi sound.

Deezer Family - £17.99 per month. This option comes with all the benefits of Deezer Premium but with Hi-Fi sound and the possibility to create six individual accounts. Each of your family members can have their own customised Deezer account.

Deezer Student - £5.99 per month. This gives you all the perks of Deezer Premium but for half the price if you are between 18-25 and are enrolled at an eligible institution.
You can subscribe to Deezer Free by going to the website or the Deezer app and completing these steps:
Type your email, create a username and create a secure password.
Enter your gender identity and age.
Enter your payment system
Choose the 'Sign Up' option.
Start listening!
You can save on Deezer with its student or Family plan! Deezer's student plan is only £4.99 a month and comes with all the benefits of Deezer Premium at a much lower price. Deezer's Family subscription plan is £17.99 per month and also comes with all the benefits of Deezer Premium, plus more!
Since Deezer Family lets you stream on up to six devices at the same time, you can share your subscription with five other people and save over 80% of the cost!
How? With Together Price!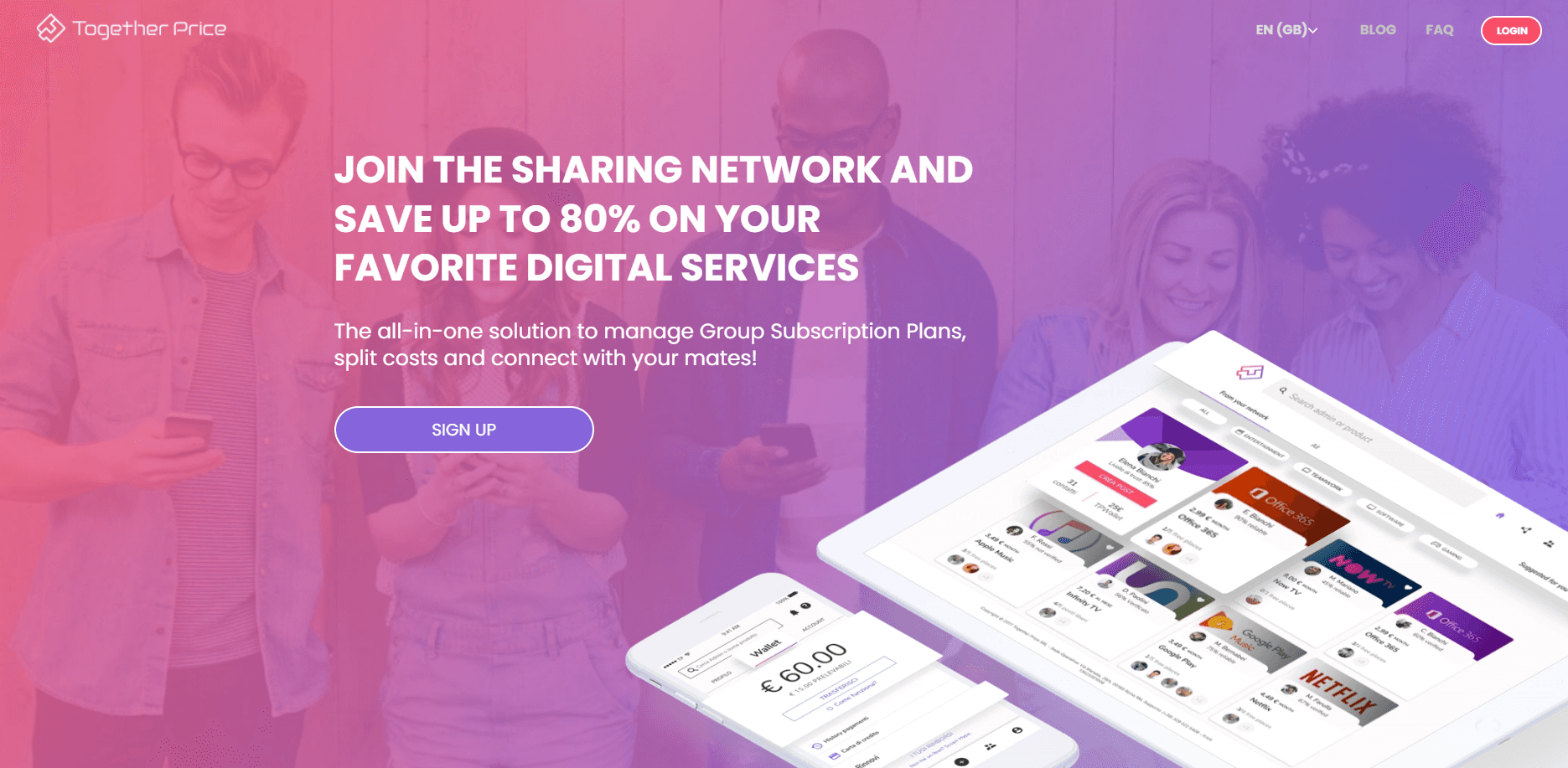 Together Price is an innovative platform for sharing digital services that lets you share the cost of your multi-account subscription in a legal, safe, and secure way.
With Together Price, Deezer Family would only cost you £2.99 a month instead of £17.99 a month by sharing the cost with five other people. Multiply this cost by 12 months, and you will notice how much you could save on Together Price!
Together Price gives you many benefits and advantages in one simple solution:
1. a trusted network based on high levels of control and reliability that can measure the credibility of every user;
2. a Tpassword system for the safety and security of your credentials and access to shared services;
3. a digital Wallet to keep all your payments under control;
4. a dedicated chat line where you can communicate with other users.
With Together Price, you share and save, and all the hassles are left to us!
Whether you become an Admin or a Joiner, you will enjoy the best digital sharing services.
Sharing is better with Together Price!
You can use Deezer on your web browser, Android and Apple smartphones or tablets, Apple Watch, Fitbit, Garmin, Google Wear OS, Amazon Echo, Bang & Olufsen, Bluesound Network Player, Bose Music device, Android or Apple TV, Android Auto, Car Play, and more!
Choosing between Deezer and Spotify depends on what audio quality you want. Spotify Premium has a slightly better audio quality than Deezer's standard audio, but Deezer's high-fidelity audio is so much better than Spotify's!
Cancelling your Deezer subscription is easy! Simply go to your account and select 'Manage My Settings' to cancel.
So, join other Deezer users who are already sharing and saving on their subscription costs at Together Price! Save money and access your favourite track, playlist, artist or albums wherever you go, for