Disney Plus is the streaming service that lets you watch all your childhood classics alongside new blockbuster movies from all your favourite movie franchises: Marvel, Star Wars, Disney, Pixar and more!
A Disney Plus account is an excellent deal and will help keep you entertained for hours. Even better, Disney Plus' password sharing policy allows you to share a Disney Plus account, so you can pay less to watch content for hours.
Together Price makes the process of sharing a Disney Plus account easy and hassle-free. Read on to find out all about Disney Plus and how to share Disney Plus.
Disney Plus may be one of the newest streaming services on the block, but it has been determined to prove itself! And prove itself it has!
Since its launch only two years ago, the streaming service has built up millions of subscribers and put together a huge library of films and shows for its audience – from Disney to Pixar, to Marvel, to Star Wars, to National Geographic, and more! It also offers a fantastic collection of exclusive originals.
The American-based subscription video streaming service is owned and run by the entertainment giant behind Mickey Mouse – The Walt Disney Company.
Disney Plus is Walt Disney's response to the other major entertainment streaming services of Netflix, Stan, Amazon Prime Video, and Apple TV.
The Disney streaming services are showing no signs of slowing down! They have continued to grow, adding new content to their library every month. They now have hours and hours of great content across many genres for you to enjoy.
A Disney Plus account offers access to all of Disney's libraries as well as great perks like the option to throw a watch party, where you can watch the same movie with family and friends, at the same time but from different places!
Disney Plus can be enjoyed by you and your friends and family!
Disney Plus works through video streaming. That means that so long as you have a screen and an internet connection, you can watch anything offered by Disney Plus without having to download content.
Disney Plus is available almost everywhere and on almost any device. You can watch Disney Plus on your TV, gaming console, smartphone, tablet, or any other device!
Below is a full list of devices that you can watch Disney Plus on:
• Computer web browser
• Samsung or LG smart TV
• Apple TV
• Fire TV
• PS4 or PS5
• Xbox One
• Xbox Series S
• Roku media player
• Google Chromecast
• iOS smartphone or iPad
• Android smartphone or tablet
Disney Plus accounts have an allowed device limit. This means that from one account, you can have ten devices, seven profiles and up to four simultaneous streams, each with a customized Disney experience.
Most of the content on Disney Plus is in 4K UHD streaming with Dolby Atmos and Vision, but if your device doesn't support these options, there are more than a few HD movies.
The cost of Disney Plus depends on what subscription plan you choose; a monthly or a yearly subscription. At the moment, Disney Plus has two subscription plans with different prices.
The current Disney Plus subscription plans are:
• £7.99 per month.
• £79.90 per year.
Disney Plus also offers the option of a gift subscription, which gives the receiving user access to Disney Plus for one year.
You can sign up for Disney Plus by downloading the Disney Plus app or by going to www.disneyplus.com. The easiest way to get started is by going to the website. Then, complete the following steps:
Create an account using an email address and a password.

Select either the monthly or annual subscription option.

Confirm your account login information.

Download the Disney Plus app on your device, make sure you're connected to WiFi, and click the "Log In" tab in the upper right-hand corner. Oh, and make sure to choose a fun profile icon for yourself and for the rest of the family.

Grab some popcorn and start watching!
Through Michael Paull - President of Disney Streaming Services - Disney has acknowledged, and they recognize password sharing exists. In fact, they allow account sharing and simultaneous streams on up to four devices.
So, if Disney Plus allows you to stream on four different devices simultaneously, it means you can share your entire subscription with three other people, reducing your cost by 75%.
We know what you are thinking. You already share your subscriptions with family, extended family, and friends, and no one ever gives you their fees back on time, not even your close friends. Yes, that happens to everyone, which is why you should absolutely use Together Price!
You can now share your online streaming and digital services in a group through Together Price, the first worldwide platform for account sharing and password sharing in a legal, safe and secure way. It only takes very few easy steps to get started.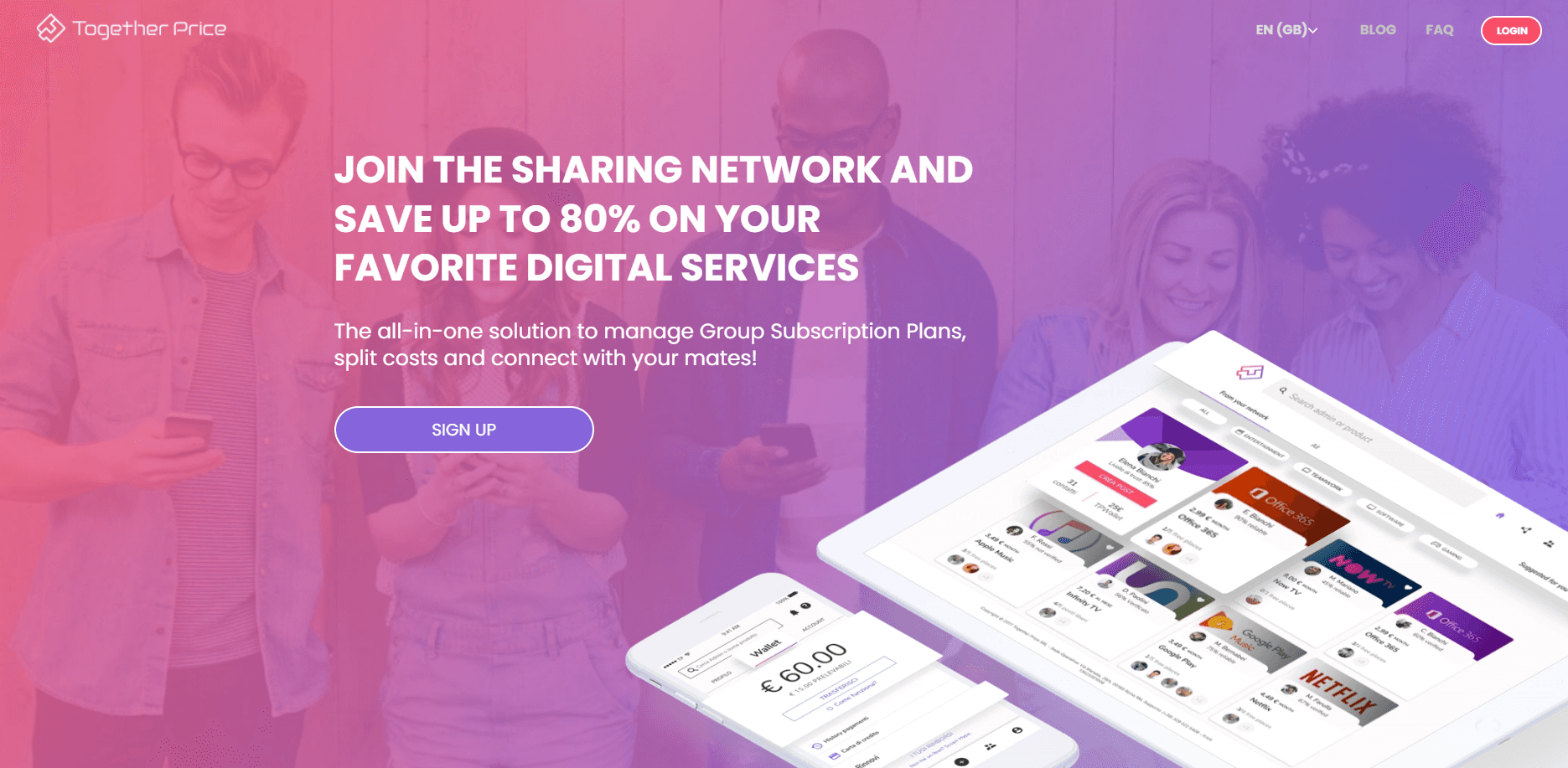 Together Price is the first worldwide platform that lets you share the cost of your multi-account subscriptions in a legitimate, safe and secure way.
Disney Plus would only cost you £1.99 a month instead of £7.99 by sharing the cost in a group. Multiply the cost by 12 months, and you will notice how much you could save on Together Price. You could subscribe to at least three subscription services for the price it now costs you to use one!
Together Price gives you many benefits and advantages in one simple solution:
1- a Trusted Network based on high levels of control and reliability that can measure the credibility of every user;
2- the Tpassword System for the safety and security of your credentials and access to a shared streaming service, so sensitive information stays private;
3- ne personal Digital Wallet to keep all your payments under control;
4- an exclusively dedicated chat line where you can communicate with other users in your streaming service group.
With Together Price, you share and save, and all the hassles are left to us!
Whether you become an Admin or a Joiner on Together Price, you will be able to enjoy the best digital sharing service.
Sharing has never been better with Together Price!
Unfortunately, Disney Plus doesn't offer a free trial any longer. While it did initially offer a 7-day free trial when it first launched, the Disney Plus trial was no more in June 2020.
Premier Access on Disney Plus is just like going to the cinema! This feature lets you watch brand new movies from the comfort of your own home on the day they start showing in the cinema. There is a fee associated with this, though. So long as you have already subscribed to Disney Plus, it costs £19.99 to use the Premier Access feature.
Disney Plus Star is a content hub within the Disney Plus platform that offers access to even more entertainment options. It is available in the UK, Canada, Australia, and New Zealand and offers more adult-oriented options, such as the Deadpool franchise, Grey's Anatomy, and Family Guy.
Since its launch in February 2021, over 600 films and shows have been added to Disney Plus Star!
All your family members will enjoy watching Disney Plus and its magnificent library of contents. Thanks to Disney's password-sharing policies, you can share your new account or your existing one with multiple people in our Together Price community.
So, what are you waiting for? Come and join us now! Sign up to Together Price for free, and then you can subscribe to whichever streaming service you want whilst making huge savings. Pay less and get more!