We've all heard of big-name streaming services like Netflix, Disney Plus, Amazon Prime Video… the list goes on. Choosing one single service is so difficult nowadays.
But have you heard of Mubi?
This streaming platform is unlike many others and certainly worth looking at. Unlike the typical platforms like Netflix, Mubi takes a specialised approach to putting together its library and brings you carefully hand-picked movies from all over the world.
You may feel that there just isn't enough money in your pocket to add yet another subscription to the list. But we have a solution for you: Together Price, the first worldwide platform for sharing all your digital subscription costs.
If you've never heard of Mubi before, we're here to help you learn more about what it is, how much it costs, and how you can save on your subscription today. Let's go!
Mubi is a global streaming service targeted at cinema fans. It prides itself on being a streaming service, curator, publisher, distributor, and cinema lover all in one.
Founded by a Turkish businessman in 2007, Mubi provides one new film hand-picked every single day. It also contains interesting community features: it produces and distributes its own films, publishes its own film news and critique publications, and gives out cinema tickets to newly released films every week through Mubi Go.
Available in over 190 countries worldwide, Mubi's film database offers a whole range of options that you can't find on typical platforms like Netflix. Its library has indie, classic, cult, international films and arthouse films from different countries and in various languages.
Its Film of the Day section is perfect for viewers who have a hard time deciding what to watch and contains both new releases and older films.
Every Film of the Day film also comes with a trailer, description, interesting cast and crew facts, and a commentary about the film and its significance.
Mubi is also compatible with almost any device – plus, you can download films for offline viewing too.
Fritz Lang, Pedro Almodovar, Lars Von Trier, Federico Fellini, Ingmar Bergman, Agnès Varda, Ben Sharrock, Béla Tarr, Ryusuke Hamaguchi, Benoit Toulemonde, Göran Olsson, Francis Ford Coppola, Akira Kurosawa, Andrei Tarkovsky, are only a few of the magnificent masters and directors whose films can be seen on Mubi.
The list goes on and on to cover all art-house cinema worldwide. There are all kinds of available titles that can usually only be seen in specialised cinema libraries.
Mubi brings all this straight to your home. How amazing is that?
The cost of Mubi depends on what subscription plan you choose. At the moment, Mubi has two subscription plan options that require payment to be made every month or every year. These are:
- Monthly – £9.99 per month.
- Mubi Go - £14.99 per month.
Annual – £95.88 per year. This is the cheapest option and works out at £7.99 per month.
All these subscription plans come with a free trial and no long-term commitment or contract.
With your new Mubi subscription, you can get a free trial that lasts for 7 days – note that this is only if you subscribe directly through the Mubi website or through the Amazon Prime Video app or website.
Once your free trial has ended, your paid subscription will automatically begin and will automatically renew unless you cancel it.
You can open a free account on Mubi by going to mubi.com or on the Mubi Apple or Android app and completing the following steps:
Select the "Login" option and click "Sign Up Now".

Enter your email and create a secure password.

Choose your membership plan – monthly or annual.

Enter payment details.

Start watching the marvellous Mubi content!
You can enjoy Mubi on a whole variety of devices. Besides your traditional Samsung, LG, Sony or other TVs, Apple TVs, Chromecast, Fire TV, Roku and Smart TVs in general, Mubi has an iOS app and an Android app for your mobiles and tablets. It is also compatible with PS4 and Nvidia Shield game consoles. And you can watch Mubi from browsers - Safari 13+, Chrome 95+, Firefox 90+, Edge 96+ - from a PC or Mac. You can also watch Mubi from your Amazon Channels with an Amazon Prime subscription.
Once you have subscribed to the video streaming service, you can log in to Mubi on up to five devices and watch Mubi on up to two devices at the same time. That means you have two simultaneous streams at any given moment.
Mubi is compatible with Chromecast, Roku, PlayStation, Xbox, all Smart TVs like Amazon Fire TV, Android TV, Apple TV, LG and Samsung TVs, Apple and Android mobile devices and mobile phones.
The Criterion Channel, born from the ashes of FilmStruck, gathers a whole collection of classic, curated and coveted films. Unfortunately, it is not available in the UK unless you use a VPN. However, Cinema aficionados don't have to worry as Mubi is an elite streaming service with selected and hand-picked art-house films from all around the world that makes the Criterion Channel look absolutely mainstream. Whether you are a cinema student or just a cinema lover, Mubi is definitely the service for you.
You can save on Mubi as a student through your Amazon Prime Video channel.
Students can save with the Mubi student membership. This membership costs only £5.99 a month and comes with a longer free trial of 30 days instead of the standard seven-day trial.
Non-students who sign up through their Amazon Prime account also get a discounted membership of £7.99 per month.
Since Mubi lets you stream on up to two devices at the same time, you can also share your subscription with another person and save 50% of the cost!
How? With Together Price!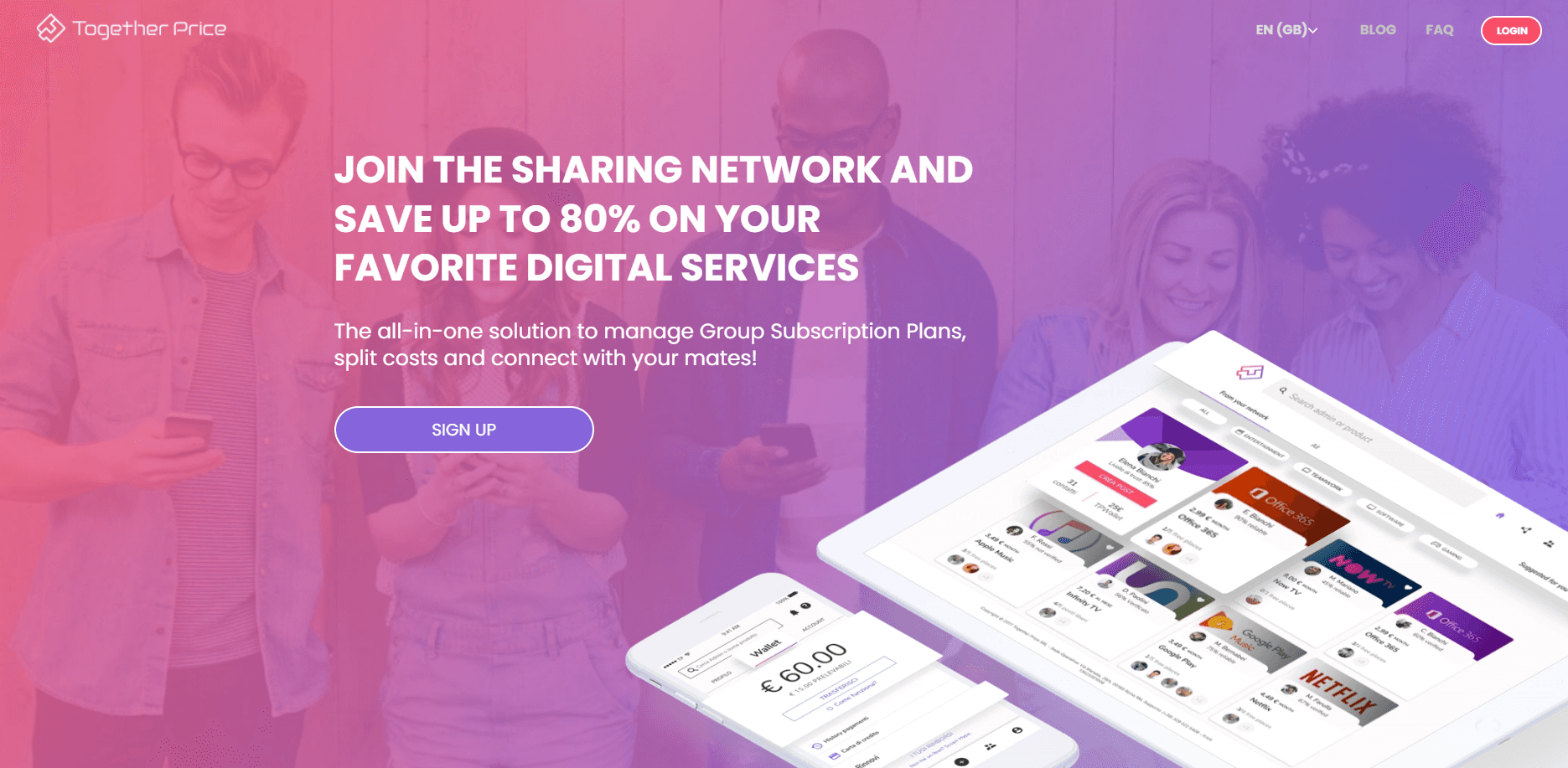 Together Price is an innovative platform for sharing digital services that lets you share the cost of your multi-account subscription in a legal, safe, and secure way.
With Together Price, Mubi would only cost you £4.99 a month instead of £9.99 a month by sharing the cost with another person. Multiply this cost by 12 months, and you will notice how much you could save on Together Price!
Together Price gives you many benefits and advantages in one simple solution:
a Trusted Network based on high levels of control and reliability that can measure the credibility of every user;

the Tpassword System for the safety and security of your credentials and access to shared services;

one Digital Wallet to keep all your payments under control;

an exclusively dedicated chat line where you can communicate with other users.
With Together Price, you share and save while all the hassles are left to us! Whether you are an Admin or a Joiner on Together Price, you will be able to enjoy the best digital sharing services.
Sharing has never been better with Together Price!
The movies on Mubi are available for different amounts of time. Any film that is leaving the platform in the next two weeks will always be labelled so you can watch it before time runs out!
While you need a subscription to stream Mubi anytime and anywhere, you can still visit its website and watch special live-streamed previews without a Mubi account. Unfortunately, the subtitles, pause, and rewind options aren't available for these free previews.
This depends mostly on you! Mubi may not be the best option if you are looking for major Hollywood productions, but it is perfect for cinema and indie film lovers or those of you who have a hard time deciding what to watch!
So, what are you waiting for? If you are a film lover, you can't miss out on the opportunity of getting yourself a Mubi account.
Plus, now that you know you can save 50% of your subscription cost on Together Price, there's no more excuse!