It goes without saying that everyone knows about Netflix. Founded in California in 1997, this American-based video streaming and production service is well-loved and well-used by many.
But do you have a Netflix account? Did you know you could save up to 75% of the cost by sharing it on Together Price?
We'll tell you all about the streaming service and how to share and save.
Netflix started out by selling and renting DVDs by mail. It was only in 2007 that Netflix introduced video streaming on-demand. And from there it was only in 2013 that it first began producing its own content.
At this time, it was still only based in the US. However, by 2010, it had expanded from America to Canada, to Latin America, to the Caribbean and eventually, in 2013, to a total of 190 other countries!
Today, Netflix has completely left its DVD beginnings and now works by setting up distribution deals and creating its own productions known as 'Netflix Originals'.
Netflix now has a relatively high household penetration with over 214 million paying subscribers in over 190 countries. Its subscribers can watch anything from TV series to documentaries and feature films across a whole range of genres and languages. It offers options from trash TV to high-concept, high-budget, and award-winning films and shows. Members can stream as much as they want, when they want, and where they want, so long as they have a suitable internet connection and a screen.
Netflix works through video streaming. This means that so long as you have an internet connection and a screen, you can watch any of the options offered by Netflix without having to download them. You do not have to buy a single TV series or film. Instead, you simply pay a monthly subscription that provides access to every single TV series and film available on the platform.
Netflix is accessible on almost any screen, tablet, device, or gaming console. It can be accessed by an internet browser on a computer or by installing the Netflix app on Smart TVs, Set-top Boxes connected to TVs, Tablets, Smartphones, Digital Media Players, Video Gaming Consoles, and even VR headsets.
You can sign up for Netflix by going to www.netflix.com and completing the following steps:
Enter your email address and click 'Get Started'.
Create a password.
Choose the subscription plan that is right for you – 'Basic', 'Standard', or 'Premium'. Remember that you can downgrade, upgrade, or cancel at any time.
Enter a payment method.
All subscribers need a valid email address and payment method (either a credit or debit card) to get started. After that, happy watching!
The cost of Netflix depends on what subscription plan you choose. At the moment, Netflix has three subscription plans with different prices. Each one requires payment to be made each month.
While Netflix last raised its prices in January last year, for the first time since May 2019, it still provides excellent value for money. Its cheapest package starts at £5.99 per month.
The current Netflix subscription plans are:
Basic – £6.99 per month. This is the cheapest option and allows you to watch on one device at a time in standard definition, and also offline viewing is allowed on one device only as well.

Standard – £10.99 per month. This option allows you to watch on two devices at a time in HD, and have two distinct profiles and simultaneous streams.

Premium – £15.99 per month. This option allows you to watch in Ultra HD (where available) on up to four devices at a time.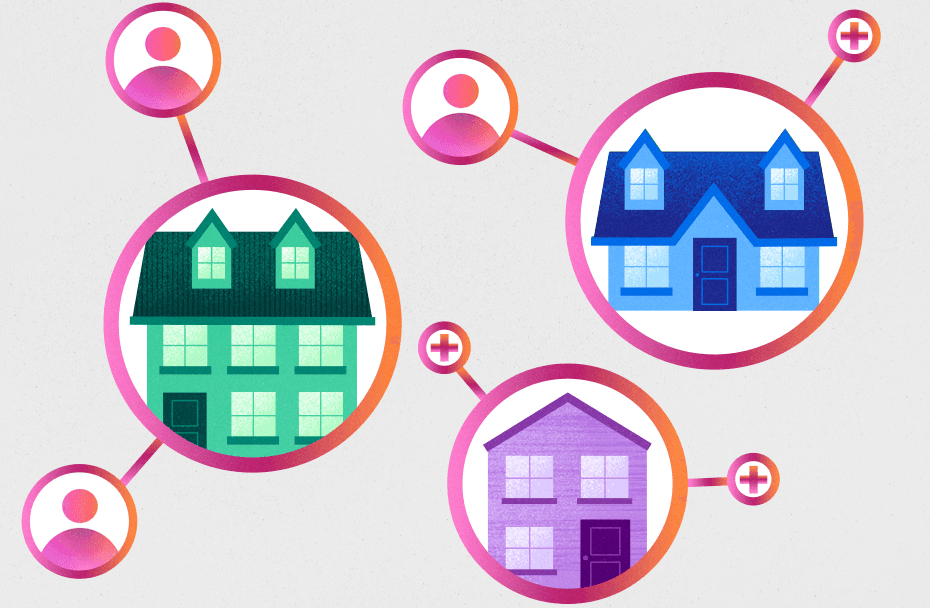 Although Netflix allows account sharing only in the same household, among family members that reside at the same address, a Netflix representative did announce that password sharing and shared accounts outside the same household had been tolerated for some time now.
But they have got on top of that now. Netflix's chief product officer stated that in Chile, Costa Rica and Peru, the streaming giant has launched a trial run of the new feature that gives the primary account holder the possibility to share their account outside the household with up to two people as sub-accounts (or password sharers). The Company estimates that to curb password sharing, this solution will see Netflix subscriptions start rising again.
We can't wait to see this sub-account solution globally launched everywhere in the Netflix streaming world!
In the meantime, with a Netflix Premium account, you can stream on up to 4 different devices simultaneously, for now.
This means you can share your membership with 3 other people, reducing your subscription cost by 75%.
We know what you are thinking. You already share your subscriptions with others, and no one ever gives you their fees back on time. Yes, that often happens to everyone, and that's the main reason you should absolutely use Together Price!
You can now share your online streaming services in a group through Together Price in a legal, safe and secure way. It only takes very few easy steps to get you started.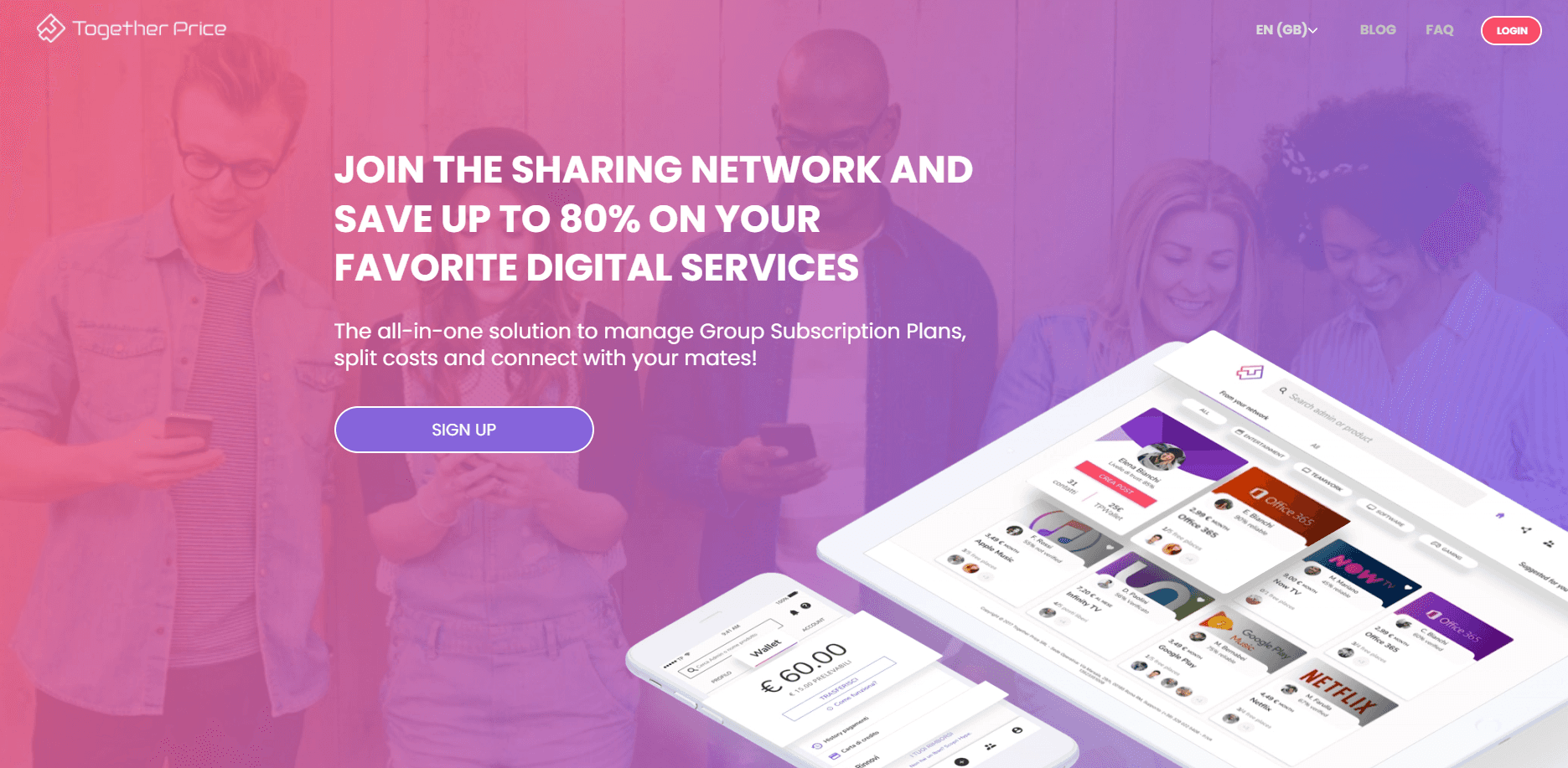 Together Price is the worldwide platform that lets you share the cost of your multi-account subscription in a legitimate, safe and secure way. It is used by over a million subscribers.
Together Price is an innovative platform on which to share your digital services.
Netflix Premium would only cost you £3.99 a month instead of £15.99 by sharing the cost in a group. Multiply the cost by 12 months, and you will notice how much you could save on Together Price.
Together Price gives you many benefits and advantages in one simple solution:
1. a trusted network based on high levels of control and reliability that can measure the credibility of every user;
2. a Tpassword system for the safety and security of your credentials and access to shared services;
3. a digital Wallet to keep all your payments under control;
4. a dedicated chat line where you can communicate with other users.
With Together Price, you share and save, and all the hassles are left to us!
Whether you become an Admin or a Joiner on Together Price, you will be able to enjoy the best digital sharing services.
Sharing has never been better with Together Price!
No! You can't get a free trial with Netflix anymore. You necessarily have to subscribe to one of Netflix's plan tiers. However, you can still cancel your subscription anytime without commitments or cancellation fees.
Although there is a great Netflix discount for front-line NHS workers.
Netflix is available in the UK and in over 190 other countries around the world. The only places it is not currently available are Mainland China, due to local restrictions, and Syria, North Korea, Russia and Crimea due to US sanctions.
Remember that the options offered by Netflix vary from country to country, so what is available in the UK may not always be available elsewhere, and vice versa!
So, what are you waiting for? Now that account holders will be able to share outside the household, as password sharing will be allowed by the streaming giant, there is no excuse not to sign up.
Besides, you also know that by signing up on Together Price, you can save while sharing!