When it comes to easily recognisable digital gaming platforms, Playstation usually makes one of the top numbers on any list.
Playstation Plus (PS Plus) is a subscription-based plan that gives you access to hundreds of gaming content and exclusive benefits for both console and PC.
Although Playstation Plus comes packed full with quite a number of benefits, it can add up quickly to your monthly subscription costs.
You can significantly impact your monthly subscription costs by sharing your account. This is where Together Price comes in.
Together Price, an online platform that connects multiple users, removes the hassle of account sharing, letting you enjoy all the benefits of a Playstation subscription without any worry.
Playstation Plus (PS Plus) is an online subscription service that gives you access to games, exclusive discounts, cloud storage and online multiplayer access.
With a Playstation Plus subscription, you are looking at a massive catalogue of the most enjoyable PS4 and PS5 games, including classic games available in both streaming and download options. Time-limited game trials for you to try games before you buy.
Sony Interactive Entertainment, the owners of Playstation, have included PC access to games. What that means is that if for any reason, you do not have a gaming console, you can still access games via a broadband-connected PC and a compatible controller.
Every gamer has their preferences in their gaming setup. For some, they have a better gaming experience using a gaming console connected to a TV screen. Others prefer to have a PC setup. Whatever your preferences are, a Playstation Plus account works either way.
If you have a Playstation Network account (PSN), which is a one-stop account for all your Playstation needs, including the PlayStation store and purchasing a PS plus account. You don't need to open a different account, you can use your PSN account to subscribe to your PS plus.
With a Playstation Plus account, you can download two free games. These free games could be from the Playstation Classics catalogue or newly released games. You only have access to the free games and all downloaded games for as long as you have an active membership.
Although PS Plus is needed for most online multiplayer games, you do not need the subscription for free-to-play online games such as Fortnite, Call of Duty Warzone and Apex Legends.
There are three subscription tiers geared towards your various gaming needs: Essential, Extra and Premium tier. You have the option to pay monthly, quarterly and yearly. The quarterly and yearly options offer pricing discounts.
The Essential tier will cost you £6.99 monthly/ £19.99 quarterly/£49.99 yearly
The Extra tier will cost you £10.99 monthly / £31.99 quarterly / £83.99 yearly
The Premium tier will cost you £13.49 monthly / £39.99 quarterly / £99.99 yearly
Only the Extra and Premium tiers offer the catalogue that includes games which have optional Virtual Reality (VR) mode
There is another tier called Deluxe, which is being offered to users who lack PS3 game streaming capability. This tier offers all the benefits of the Premium tier without PS3 streaming capabilities.
For now, official pricing has not been announced yet.
There is a subscription plan and payment frequency to match your needs and budget!
But the better question now is, what do you get with a subscription?
Prior to Playstation Plus, Sony interactive entertainment offered Playstation Now subscription, which would be rolled into the newly released Playstation Plus subscription. But Playstation plus offers more benefits than ever before.
With a Playstation Plus subscription, here are the benefits to expect:
Downloadable games.

Exclusive discounts.

Cloud storage for saved games.

Online multiplayer access games.

Original Playstation, PSP, PS2, and PS3 games are available via cloud streaming.

Time-limited game trials.

Game catalogue.

Share play.

Game help.

Monthly plus games

Exclusive content
Another perk not mentioned above is that with the wide catalogue of PS4 and PS5 games, game titles like Concrete Genie and Wipeout Omega Collection, both of which have optional Virtual Reality (VR) mode, are available with a PS Plus subscription. See the Current game catalogue.
These optional VR mode games are only open to the Extra and Premium tier.
It really is a must-have for anyone who enjoys PlayStation games.
Sony Interactive Entertainment has restricted sharing such that all multiple users have to be in the same household to be able to share a Playstation plus subscription. You only need one account and one console.
Sharing the PS Plus has several advantages, such as reducing subscription costs and access to numerous new games. If you have a PS Plus subscription, you might be considering sharing access to your PlayStation Plus membership to more than one account. . You can share your PS Plus with other users with PlayStation Network accounts. However, you can only share the PS Plus on your console; users on different PlayStation consoles cannot use your subscription.
This means that you can have multiple sub-accounts, but all of those accounts have to be logged in using the same console, which has to be either a PS4 or PS5. Note that outside of the primary account holder, other accounts will not be able to redeem any monthly games.
If you have more than one console, a possible solution could be to have Console Sharing, and Offline Play activated on one console and on a second console, the primary PS plus account holder logs in without setting the second console as a primary console. There might be some features lost on the second console by going this route.
For players who enjoy exchanging gaming materials with other users, you and a friend can play the same game together even if only one of you owns the game. With PS4 and PS5 consoles both supporting game sharing and Share Play settings, you can share access to all the games on your PS4 or PS5. It's like sharing a book or a disc.
For those who want to set up a PlayStation family account with young gamers, the primary account has the ability to set parental controls to allow only age-appropriate content for a number of child accounts. There is also the additional setting of restricting gameplay time.
Together Price can help you manage the individual payments of all users of a single Playstation Plus subscription.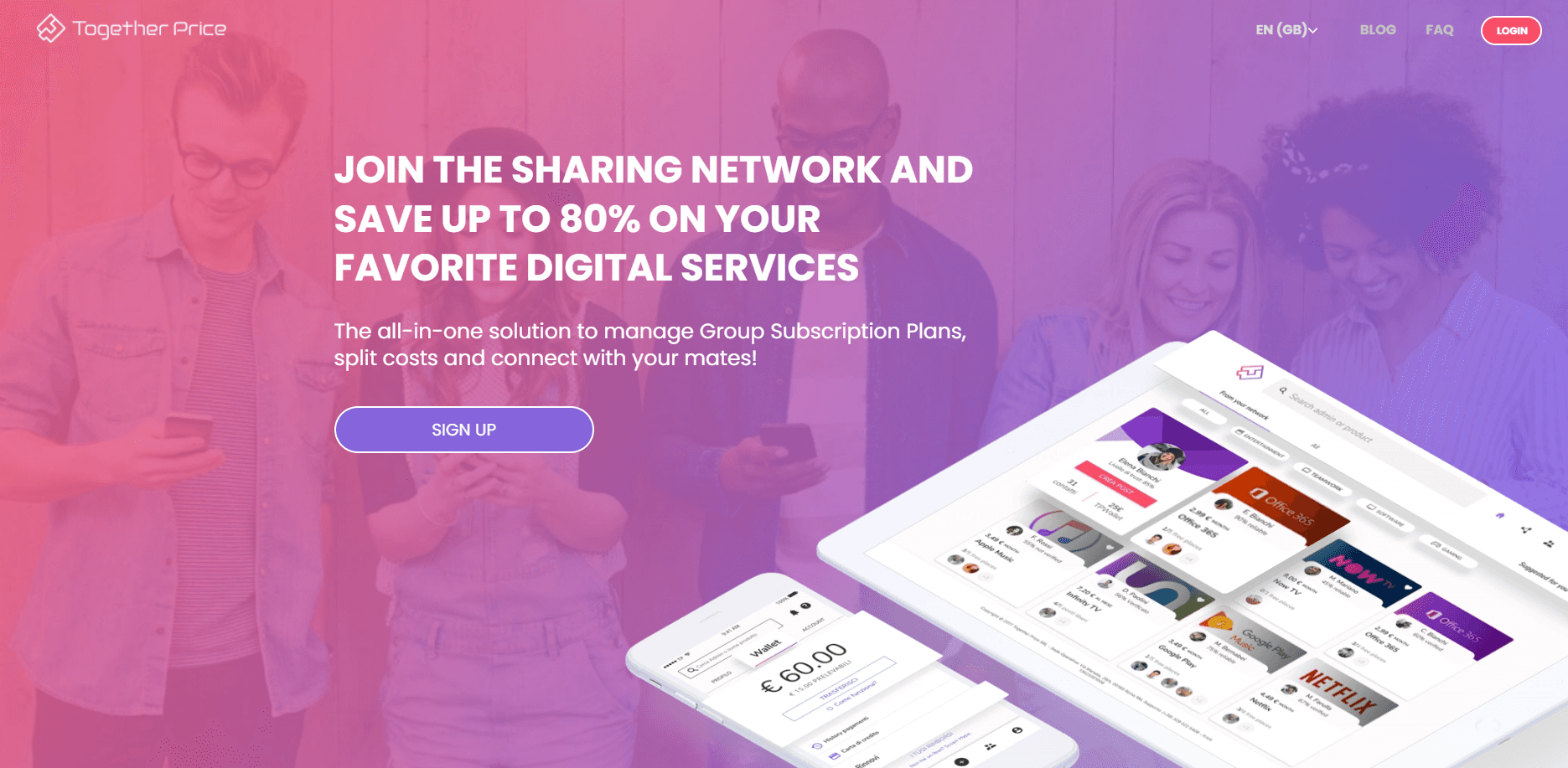 Together Price is an online platform that allows people to share their streaming services. If you have been wondering about sharing your Playstation Plus subscription with members in the same household using the same console, then we have some good news for you. You can share the Playstation Plus in a few simple steps.
If you have a Playstation Plus subscription, you can share it using Together Price.
Create a sharing group for Playstation Plus. Insert some information, like how many members can join and whether the group is private or public.

This would have to be a private group because all users would use the same console.

Send invitations to family members and friends since the group is private.
You can put all your trust in Together Price. They have very high ratings, and you will never miss a payment as an Admin. They have a solid TPassword system to keep your passwords and credentials super safe!
Whether you are new to gaming or just looking for better options for a Playstation Plus subscription, we hope you found this article helpful.
For anyone who enjoys gaming, Playstation Plus allows you access to a huge variety of content and benefits exclusive only to Playstation. You won't get it anywhere else.
Although console sharing (you can only use a single console) is required to be able to share a Playstation Plus account, Together Price enables you to have a worry-free account sharing experience.
With how easy it is to share an account and reduce costs, there really is no reason not to sign up.