Gaming has always been about working and playing together. But did you know that as well as playing co-op, you can level up your gaming experience (and save money!) by paying co-operatively? You don't have to be a technology writer to get excited about that!
Xbox Ultimate Game Pass is a subscription service allowing gamers to expand their games library while avoiding the full price of each individual game. In this article, we'll help you use this service to play for less - and even less, by family sharing via the Together Price network.
As we'll explain, there are three versions of the Xbox Game Pass to choose from (including the Game Pass Ultimate), but all of them offer access to a huge selection of gaming experiences. The value is remarkable: for a reasonable monthly fee, customers can choose without limits from a vast catalogue which ranges from classic Xbox series like Gears of War, Halo, and Dragon Age, to recent indie hits like Backbone and Among Us.
What's more, the selection in their free game library rotates each month, and there are over 100 high-quality videogames to choose from at any time. The value is exponential, increasing each time you download and play a new game.
Xbox Game Pass Ultimate combines the perks of the Game Pass for Console and the PC Game Pass, granting subscribers access to PC and Console games - as well as mobile games, which are not included in the other deals. If you game across different devices, this is the deal we recommend.
With your Ultimate Game Pass subscription, you already have access to the Game Pass PC subscription. Even if you prefer to play on one console or are a PC games purist, the Game Pass Ultimate maintains its edge by giving you access to perks such as in-game content and partner offers.
Unlike the other offers, Game Pass Ultimate includes a subscription to EA Play at no additional cost. EA Play provides discounts, in-game rewards, and trial periods for EA's plethora of popular Xbox series, such as FIFA and Battlefield.
And, massively, you'll also have access to all the benefits of Xbox Live Gold.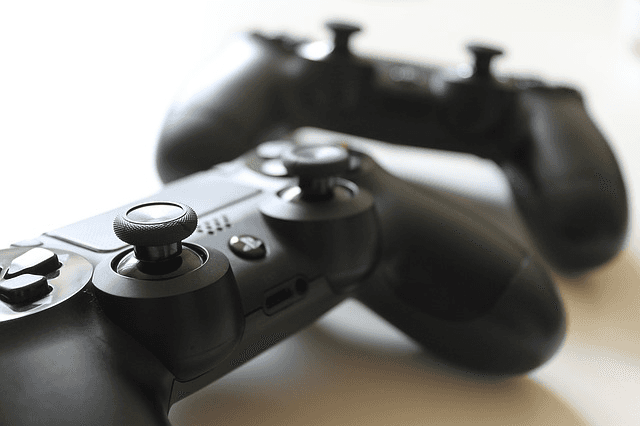 Anyone who owns Xbox Live Gold can jump into the world of online gaming, now able to play their favourite Xbox game with millions of people through Xbox Live.
On top of this, an account with Gold has access to discounts of up to 50% off in the Microsoft Store - and the Microsoft Store offers 4 free 'Games with Gold' each month, exclusively to users with a Gold account.
These freebies, compounded with those curated for the Ultimate Game Pass subscription, offer an impossibly vast amount of playing hours.
The Xbox Ultimate Game Pass subscription is the only game pass to include Gold, which turns it into an even greater deal for any savvy gaming consumer.
An Xbox Ultimate Game Pass subscription costs £10.99 a month. You can get a one-month Xbox account for £1.00 then it will automatically start charging the regular price.
You can add your friends with Xbox app accounts to play online and enjoy multiplayer games. You can add as many people as you like as long as each one has started their own personal session on your Xbox account through your subscription.
Xbox lets you share the perks of your Ultimate Game Pass with another person through the "Family" option. And here's an essential tip: the person you share it with doesn't have to be an actual family member. They can be any other Xbox or PC owner (Xbox One onwards) - and all you have to do to share your Xbox Ultimate Game Pass is follow the steps below.
With each player having access to the other's account, it will be possible to share games and the cost of your Game Pass subscription with your chosen friend.
The procedure is AS SIMPLE AS THIS:
On your primary Xbox console, press the "Guide" button (also called the "Xbox button") on the controller and choose 'Login'.

Add the account of your friend, who owns the other console and has an Ultimate Game pass.

Enter the details of your friend (email address and password) to log in to their account and complete the configuration.

Once you've accessed your friend's account, select 'System' then 'Settings'.

In the new menu, go to 'Customise my Xbox home' and set it as 'Home Xbox'. This makes your console their 'home console' - letting you download and play any Xbox game downloaded to their console, no strings attached!

Once you've finished the process, you can log out from your friend's account and connect to your own Xbox app account.

You must do the exact same thing on the second console belonging to your friend, but with your account info, setting that secondary console as your home Xbox.
And there you have it, now you can play the same game together!
It will be possible to play games you download onto your primary console on the secondary console set and visa versa, so any game downloaded for free using an Ultimate Game Pass can be shared across two consoles. Just make the other person's console your home console, and your console their home console!
The game pass and family sharing systems already encourage sharing the subscriptions and downloads of one Xbox account with a secondary Xbox and secondary account, pooling your games with a friend or between family members.
But, as 'family accounts' don't have to be kept in the family, there are opportunities to spend less on the subscription itself, on top of sharing games across a family plan.
Sharing your Xbox Ultimate Game Pass with another person lets you save on the cost of your subscription by 50%. So instead of £10.99 a month, it could only cost you £5.49 a month.
If you'd like an easy, efficient, and credible way to organise this deal, why don't you head over to Together Price?
Together Price is the first worldwide platform that lets you share your online subscription costs legally, safely and securely.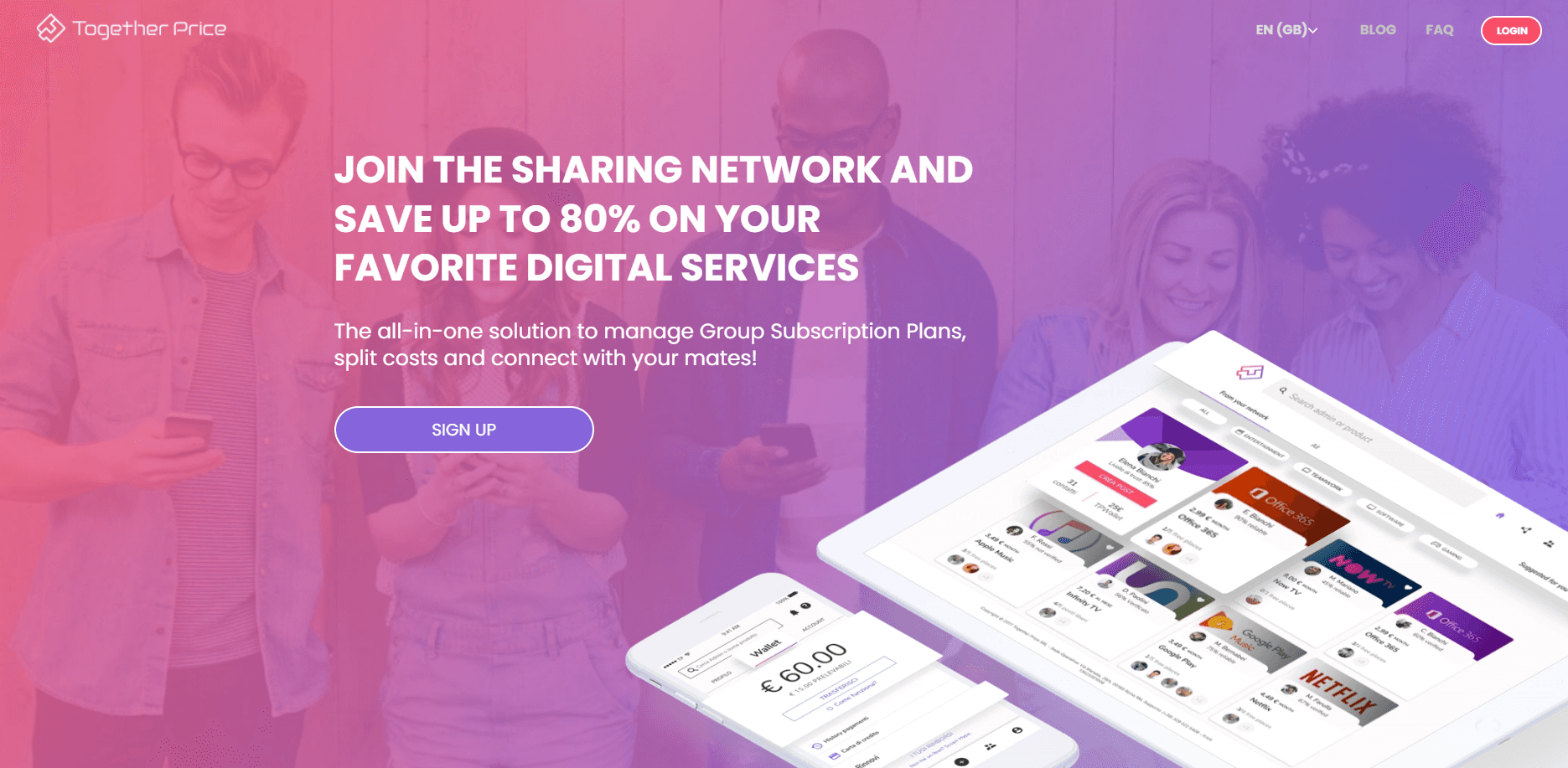 Together Price is an innovative platform where you can have fun sharing your digital services. It gives you the following benefits and advantages:
A Trusted Network based on high levels of control and reliability that can measure the credibility of every user. Our reliability rating for each user reassured you that you're sharing with a trustworthy person.
The Tpassword System for the safety and security of your credentials and access to shared services.
One Digital Wallet to keep all your payments under control. We use Stripe as the payment system so that all of your payment details remain hidden from other users. Stripe also has a strict anti-fraud data protection system.
All transactions take place in a safe environment with an SSL security certificate, so you don't risk any details being leaked.
An exclusively dedicated chat line where you can communicate with other users.
Not to mention our 25-day cooling-off period, so that if on the off chance you do face issues from another user, you can always get your money back.
The only things you need to decide when signing up to Together Price are which subscriptions you want to take out, whether you will be a group Admin for that subscription, or if you will become a Joiner.
If you sign up to be an Admin, you will be sharing your subscription. If you need, Together Price will help you find a partner to share with. Alternatively, you can use us to coordinate regular contribution payments from someone you already know.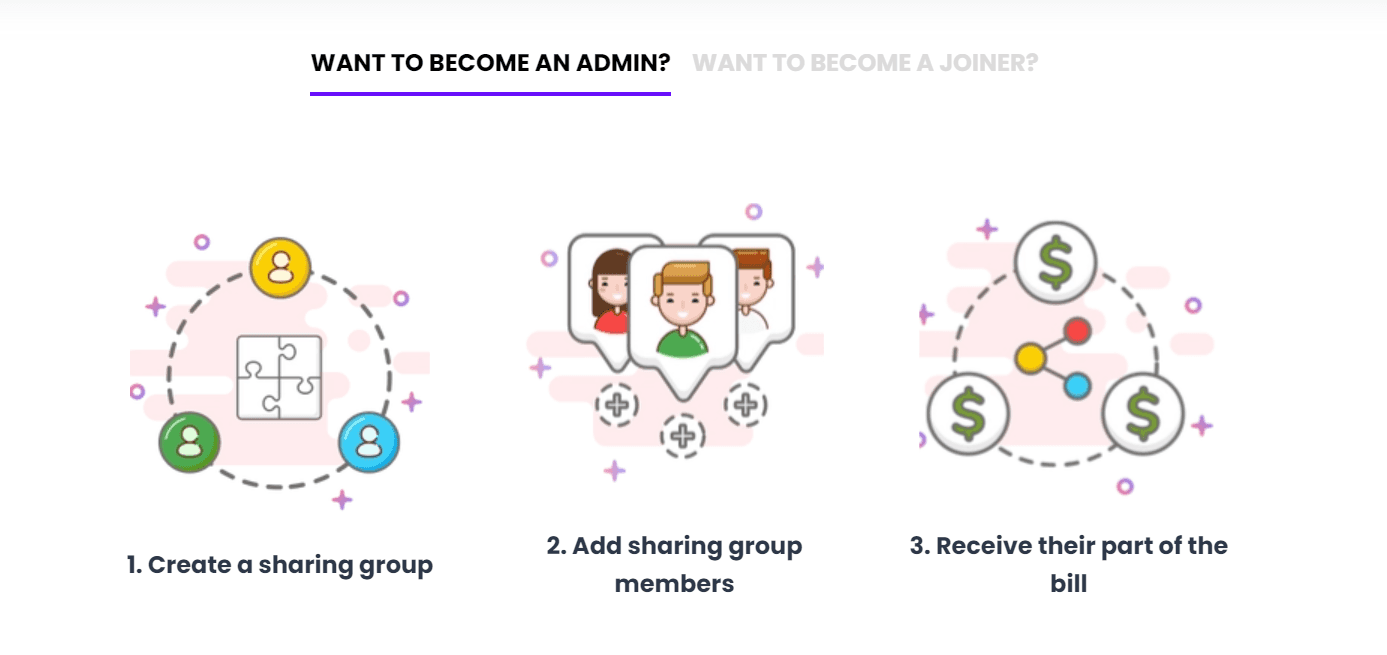 How to become an Admin
Fill in your details.
Create a group.
Decide if you want your group to be public (everyone on Together Price can ask to join) or private (you send invitations to whomever you decide).
Send an invitation link or wait for others to join.
Get paid monthly. The money goes into your digital wallet, and you can download it to your bank account after 25 days.
You might wish to sign up as a Joiner instead. As the name suggests, you'll be joining a subscription team, getting full use of the subscription's perks for a portion of the total monthly fee.

How to become a Joiner
You can join someone else's subscription group. Sign up on Together Price. It's free. Fill in your details. Search for groups you are interested in joining. Join a group and pay monthly to the Admin! You will have to pay a small commission fee to Together Price for their service (less than £1).
With Together Price, you share and save while we sort out the rest!
Whether you are an Admin or a Joiner on Together Price, you will be able to enjoy the best digital sharing services for gaming, as well as other streaming services like Netflix, Disney Plus, Apple Music, and many more.
Once you're a Game Pass Ultimate subscriber, all you have to do now is open your Microsoft store account, download and install the Game Pass games you like from the Game Pass library, and start playing!
Use Together Price to make your gaming experience more pleasurable by sharing the costs with someone else.
What are you waiting for? Play games and have fun knowing you are saving at the same time. Whatever game you play first, everyone's a winner with Together Price.