It goes without saying that we've all heard of YouTube, the go-to video streaming service for, well, everything really!
But have you heard of YouTube Premium? Here you'll find everything about what YouTube Premium is, how much it costs, and how you can save on your subscription with Together Price.
YouTube Premium is a subscription-based service that lets you use YouTube with some extra content and special features. First launched as 'Music Key' in 2014, and then as 'YouTube Red' in 2015, it was rebranded as 'YouTube Premium' in 2018 – a bit messy, we know!
Today it focuses on removing ads and making your YouTube experience better. Everyone complains about the amount of ads on YouTube! So, if you use the service a lot, consider getting yourself a paid subscription.
So, what's so great about YouTube Premium?
With YouTube Premium, you can watch videos without ads, you can play videos in the background when you are not using the app, and you can download videos to watch later. You also get access to exclusive content known as YouTube Originals. These are new and creative YouTube series, movies, and events that have been put together by professional studios and YouTube creators.
Sounds pretty cool, right?
In the UK, YouTube Premium costs £11.99 per month. Once you have paid this cost, you have access to all the extra content and special features that come with YouTube Premium. Your membership will renew automatically after the thirty-day trial period, and you will be charged once every month.
You can subscribe to YouTube Premium by going to the YouTube website and completing the following steps:
Sign in to your Google Account.
Choose the 'Try It Free' or 'Get YouTube Premium' option.
Choose a payment method and enter all the required details.
Start watching, listening and enjoying YouTube Premium!
You can save on a YouTube Premium subscription with the YouTube student and YouTube Family plan. You can find the details of these plans here:
YouTube Premium Student – costs £6.99 per month. This plan comes with all the same benefits as the standard YouTube Premium plan but saves you 50% of the cost! So, who's eligible for this great deal? Any higher education student that can verify their student status with their student email, student ID, or letter of enrolment can access YouTube Premium Student.

YouTube Premium Family – costs £19.99 per month. This plan also comes with all the same benefits as the standard YouTube Premium plan, but with the added benefit of six people sharing the account in the same household. Plus, each family member can personalise their individual account. Adding a family member to your Youtube family group will automatically add them to your Google family group.
Since the YouTube Premium Family sharing settings allow you to use YouTube on up to six devices simultaneously, you can share your subscription with five other family members and save over 80% of the cost!
You might be wondering how… With Together Price!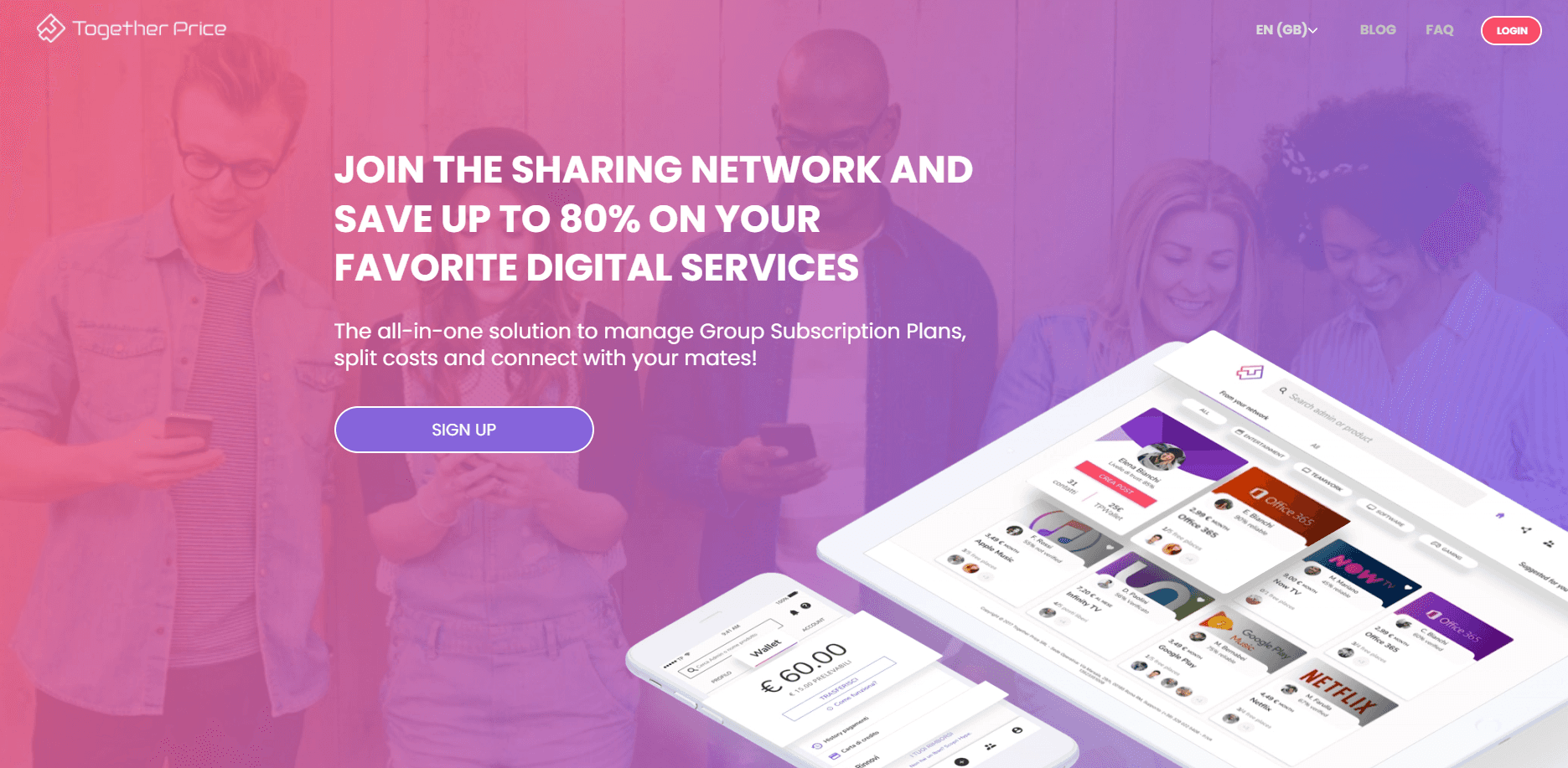 Together Price is an innovative platform for sharing digital services that lets you share the cost of your multi-account subscription in a legal, safe, and secure way.
With Together Price, YouTube Premium's family plan would only cost you £3.33 a month instead of £19.99 a month by sharing the cost with five other people. Multiply this cost by 12 months, and you will notice how much you could save on Together Price!
Together Price gives you many benefits and advantages in one simple solution:
a trusted network based on high levels of control and reliability that can measure the credibility of every user;

a Tpassword system for the safety and security of your credentials and access to shared services;

a digital Wallet to keep all your payments under control;

a dedicated chat line where you can communicate with other users.
With Together Price, you share and save, and all the hassles are left to us!
Whether you become an Admin or a Joiner on Together Price, you will be able to enjoy the best digital sharing services.
Sharing has never been better with Together Price!
YouTube Premium includes:
Ad-free watching.
Access to YouTube Originals.
Playing videos in the background.
YouTube app or browser is not open.
Offline watching with video downloads.
Access to YouTube Music Premium.
Yes, you can! YouTube Premium offers a one-month free trial for both new users and users that are re-starting their subscription after cancelling. But this cancellation needs to have been more than six months ago – and you can't access a free trial more than once in 12 months!
YouTube Premium is compatible with almost every device! You use it on your Apple or Android smartphone, Chromecast, Android or Apple TV, Xbox One or 360, PlayStation 3, 4, or 5, Nintendo Wii U, Roku, and even more!
So, what are you waiting for? Share your YouTube Premium account on Together Price, and you won't have to argue with your family group members ever again!