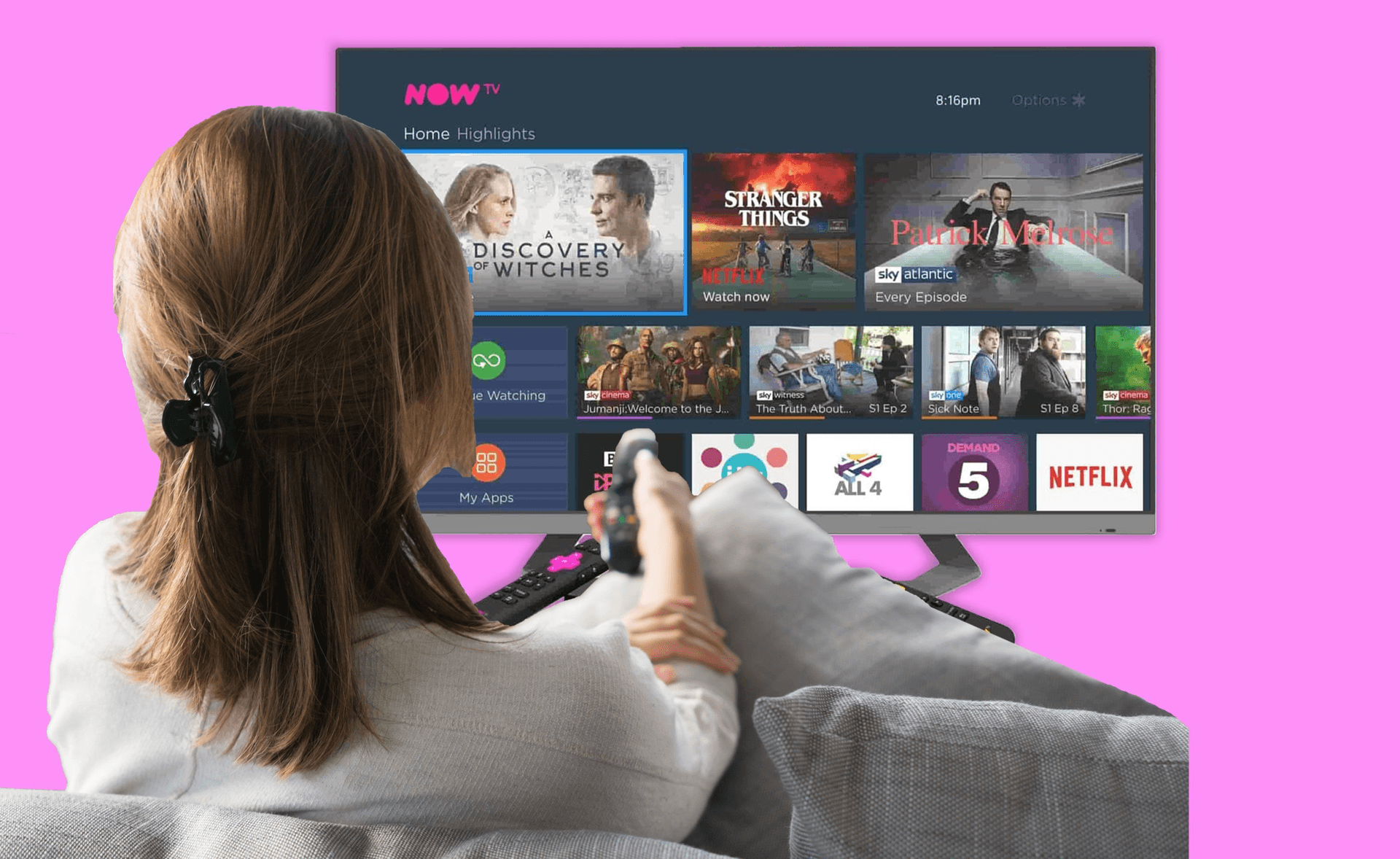 NOW TV is a Sky-owned subscription-based Live TV and video-on-demand service with premium channels like Sky Sports, Sky Movies, and Sky Atlantic.
As a subscription account holder, you are able to add up to five profiles to your account. This creates the perfect opportunity to share your subscription costs with family members and friends.
Using Together Price, you can ditch the hassle of account sharing management and double the savings. What's not to like?
Especially when you can save more than 66% of your NOW TV subscription cost.
Together Price is a safe and legal way to share your streaming services without having to manage any of the password sharing and financial aspects yourself. Together Price has got you covered.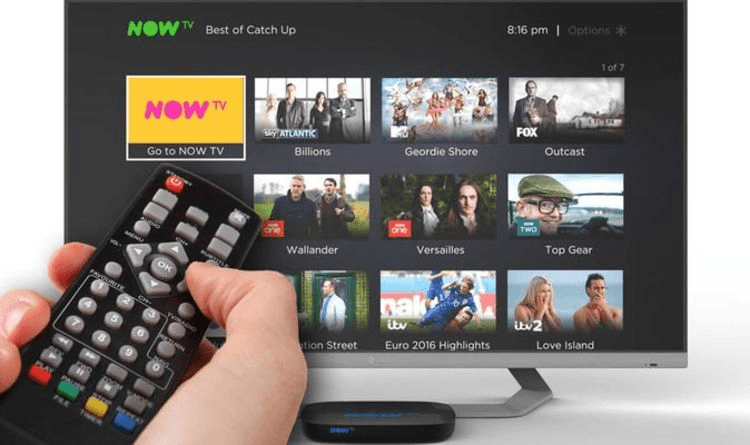 NOW TV is a streaming service operated by British Satellite television provider Sky, which allows you to stream movies, TV shows and sports when you want, all that is required is an internet connection and a compatible device.
NOW TV offers five membership options: Entertainment, Cinema, Sports, Kids & Hayu. For a full breakdown of the live channels available with each of the five NOW TV memberships, click here.
You can start with a 7-day free trial before you are charged a monthly subscription fee which you can cancel at any time.
For an additional cost to your subscription fee, you can add a NOW TV Boost which gives access to full HD viewing, surround sound, simultaneously streaming on 3 devices and Ad-free entertainment. As with NOW TV memberships, you get a 7-day free trial.
You can watch NOW TV on multiple devices like smart tv and platforms like Amazon Prime Video. There are alternatives to the NOW TV Smart Stick. Other streaming sticks, such as a Roku device, Chromecast, Apple TV or Amazon Fire TV Stick, will also support the NOW TV app. Selected smart TVs will allow you to download the Now TV app without the need for a streaming stick.
EE uses Apple TV to deliver its TV content so its customers can also access the NOW TV app through their set-top box.
You can also watch NOW TV through the app from the Windows Store and with the NOW TVPlayer . Each of these counts as a separate device, meaning if you watch NOW TV using both methods, two of your available six devices will be used up. NOW TV consequently recommends sticking to one way of watching to avoid using up other device slots. You need to be aware of how many devices you have on your account.
Should you have two or more of the same device in your house, NOW TV recommends renaming one of them so you can tell which is which. Use the Last used date to help you tell the difference between two devices with identical names.
Although you can watch NOW TV on your set-top box sets, there are a few restrictions as to what you can watch. Watching NOW TV through a set-top box, if you're a BT TV customer, you can watch on 2 devices at once as long as one is a BT TV Box. For TalkTalk TV customers, you'll be able to access the NOW TV app via your YouView set-top box.
Click here to get more details on a variety of compatible device types.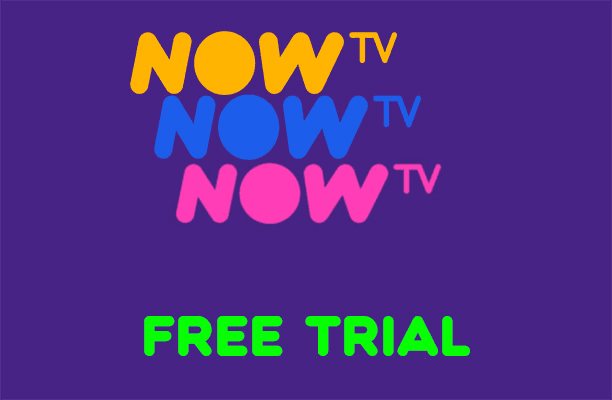 You can get a free trial of the Entertainment, Cinema or Hayu membership and watch for seven days without paying anything. After the trial, you will get charged unless you cancel.
Although NOW TV is not free, you can get it at an unbelievable price.
With Together Price, you can reduce your monthly subscription by more than 50% of your total bill even if you decide to include add-on services.
Prior to NOW tv memberships, Sky offered NOW TV passes. But recently, they discontinued the TV passes and are now offering monthly no-contract memberships.
Read our article that talks more about NOW TV passes here.
The better news is that NOW TV offers memberships instead.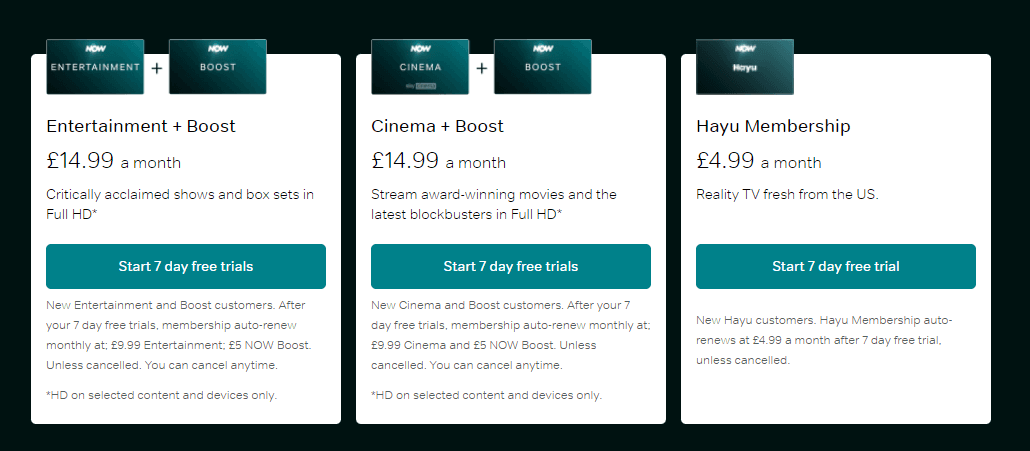 The nice perk about a NOW TV subscription is that you won't have to pay for unwanted television channels. You'll only pay for what you enjoy, rather than paying for channels you'll never watch. You can also add up to six devices to your individual account making family sharing easier.
Up to 6 devices can be stored on your account, once you've added devices up to your maximum of 6 to a Now TV account, you will need to remove one to watch NOW TV on a new device.
With a NOW TV account, you can purchase one of four membership plans. This gives you access to live channels and an on-demand viewing service. For each of the membership types, you can add a [£5 a month] for a boost membership that lets you stream on 3 devices simultaneously.
There are four membership options:
Entertainment
Live channels including Sky Atlantic and Sky Max

Epic TV from cartoon network, Nick Jr., Sky Kids and more

£9.99/month
Cinema
Brand new movies on demand including Sky original films

watch on over 60 devices including TV, mobile and desktop

£9.99/month
Hayu
Stream US reality TV shows

Download and watch anytime - even offline

£4.99/month
Sports
11 Sky sports channels (live sports)

Users can also include one smartphone for those owning a Sky Sports Mobile Month Pass.

one day or monthly membership with no contract

£33.99/month
Just keep in mind that if you sign up for a Sky Sports day pass, even if you're a Sky subscriber, you won't be able to watch it through your set-top box and will have to watch through another device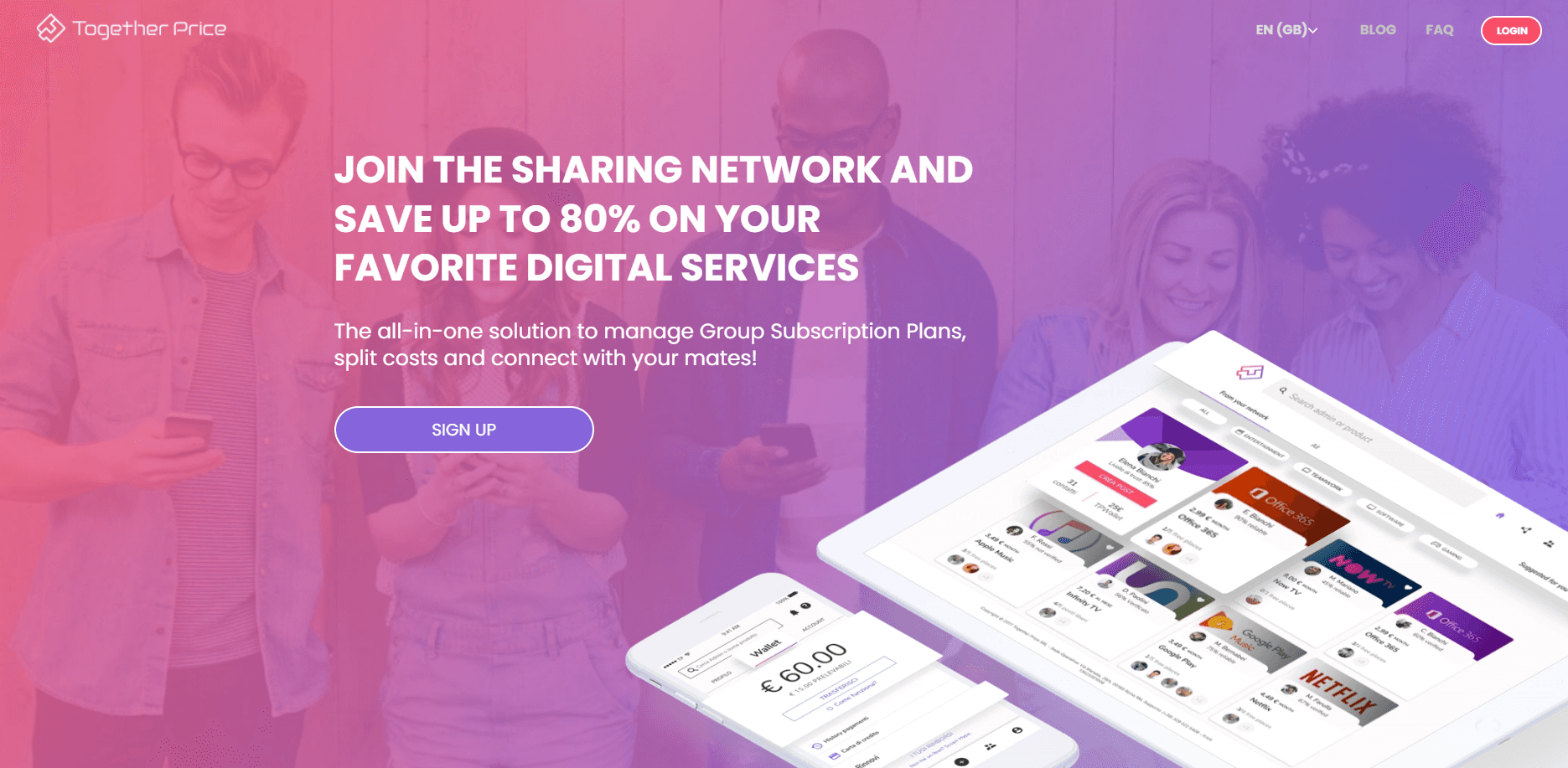 Together Price works by uniting users in sharing groups, where there are two options to using it: Create a sharing group for others to join Join an existing sharing group. You can share any streaming service with Together Price. You can share your Now TV account and any other online digital streaming services.
You have probably tried sharing accounts with friends and family to save money, but they never paid back or paid on time.
With Together Price, that will never happen. You will never have to worry about anyone paying you back because Together Price takes care of that.
Together Price guarantees the safety of your passwords, credentials, and accounts so that no hacker can steal them. You never have to share payment methods with anyone.
You can save money in two ways, either by becoming a Joiner or an Admin. Admins share their accounts while joiners share someone else's account.
With Now TV, you can simply select a service, sign up, and pick an option of your choice.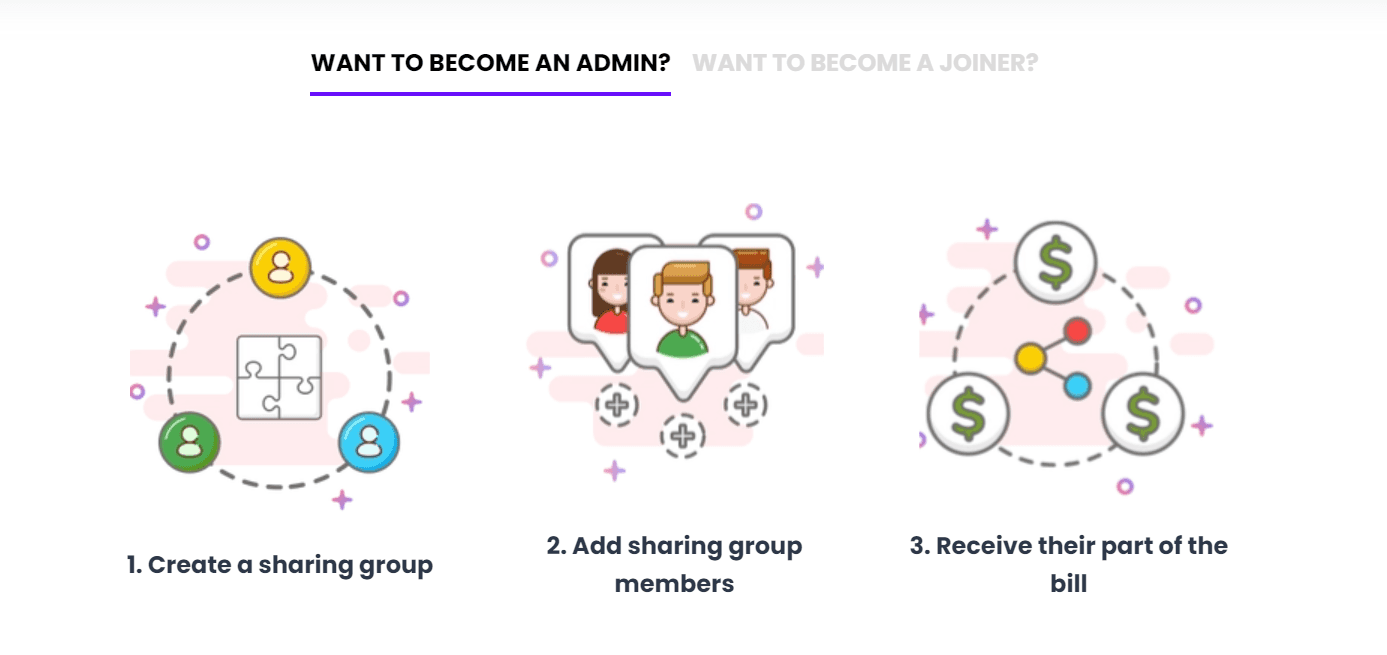 Being an Admin means you have complete control over your group. If you have a subscription with free slots, you can share it with others and cut costs.
Create an account on Together Price. It's free!

Fill in your details.

Create a group.

Decide if you want your group to be public (everyone on Together Price can ask to join) or private (you send a personal message invitation to whomever you decide).

Send invitations or wait for others to join.

Get paid monthly. The money goes into your digital wallet, and you can download it to your bank account after 25 days.

You can join someone else's subscription group.
Sign up on Together Price. It's free.

Fill in your details.

Search for a NOW tv group.

Join the group and pay monthly to the Admin! You will have to pay a small commission fee to Together Price for their service.

Then start watching!
A NOW TV account gives you an array of live channels and on-demand video streaming all without a long-term contract.
NOW TV allows you to share your NOW TV account with one of your households. You can add up to six devices on a single account and watch NOW TV on two devices at the same time.
No matter your choice of membership, Together Price can further reduce your monthly membership costs by giving you a safe and legal way to share your account without giving out your NOW TV details.